At the end of June 2017 Franck and I left New Zealand after one year there to travel in south-east Asia over a period of three months and a half. At first, we didn't really think about Malaysia but eventually we started our asian trip with this country and we didn't regret it at all! We've spent five wonderful weeks discovering the Malaysian culture, swimming in warm waters surrounded by colourful fishes, tasting delicious local foods and, of course, bathing in the sun on heavenly beaches!
This country seems very appealing but the main question is: how much does it cost to travel in Malaysia? To help you to plan ahead your budget we wrote down all our expenses during our trip. So here it is : travelling in Malaysia during 39 days cost us 2418 euros, that is to say 31 euros per day per person. With this budget we really enjoyed ourselves. Without Franck's scuba diving PADI open water course and my three dives the budget goes down to only 26 euros per day per person.
This budget does not include flight tickets (in and out the country) and it covers only for a travel in peninsular Malaysia. We didn't go to Borneo.
So let's have a closer look to this budget. Unsurprisingly, the accommodation part is the most important: 35% of our expenses. The rest of the budget being split this way : 25% visits and activities, 21% food, 17% transports and 2% miscellaneous. In other words we spent per day and per person: 10.85€ in accommodations, 7.75€ in visits and activities, 6.50€ in food, 5.30€ in transport et 62 cents in others expenses!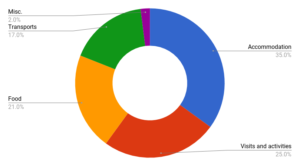 To give you a better idea of how you can travel and how comfy you can be with this budget here are some details regarding each item:
Most of the time we slept in mid-range hotels. In Perhetian and Tioman islands our hotel nights were more expensive than in other hotels in the country. Luckily, this cost were counterbalance by some nights couchsurfing in Kuala Lumpur and Malacca.
Indeed, we also spent about twelve nights couchsurfing. For those who haven't heard about it, the couchsurfing website connects local people who are willing to host with travellers looking for an accommodation. We sometimes sleep on a couch or we can enjoy a guest room, it depends. Once, in New Zealand, we even shared a caravan with Alex, who is about 70 years old. Anyway it is a very good way to meet people so if you like to share with other people and go beyond addresses that you can find in a travel guide : go couchsurfing!
The most expensive activity we have done was scuba diving : Franck's PADI open water diver course and the three dives I have done. Indeed if you don't plan to scuba dive during your Malaysian trip your activities budget will be less important. Apart from scuba diving, our visits and activities expenses include some entrance fees for monuments, parks and a museum. We have also done some activities such as an excursion to see fireflies, a jet-ski session and a boat day trip in Langkawi mangroves.
As for food, we indulged ourselves. There are so many local dishes to taste in Malaysia! It's too hard to resist! But no need to eat in a gastronomic restaurant to treat yourself: we ate many good meals in low to mid-range restaurants and in markets. If, like me, you are a foodie you can find here my post about foods in Kuala Lumpur.
In the cities we used public transports (subways and buses) and also Uber and his Malaysian equivalent Grab. Using an Uber or a Grab is cheaper in Malaysia than in France. For two, it is about the same price as riding public buses, but way more convenient.
To go from a city to another we travelled by buses and to reach the islands we crossed seas by boat. By the way, these boats are not wheelchair accessible. In the best case scenario it is necessary to be able to walk a bit and climb one or two steps (or to be carried) to get on board and to disembark. In the worst case you will have to embark from the shore, even sometimes with your legs in the water.
The remaining 2% of budget covers laundry, personal care products, prepaid sim cards and some souvenir magnets.
I hope this post will help you to organise your upcoming trip to Malaysia. If you have some questions or budget advices that you would like to share please feel free to comment below. If you would like to have more information about travelling in this country you can read about all our travel destinations in Malaysia and their wheelchair accessibility.
Have fun planning your travel and bon voyage!
Did you like this post? Feel free to check out my Patreon page to see how you can support the creation of new ones and be a part of iwheeltravel!
And of course, you can share, like and subscribe, to be aware of the lastest posts.