Visiting Penang in 4 days in a wheelchair
Sometimes ago, I started to tell you about our Malaysian tour. I mainly told you about Kuala Lumpur, so today I take you outside of the capital, on the island of Penang. No dream-like beach shore this time. What brings tourists in Penang is George Town, an old colonial city, which its historical core has been inscribed as an UNESCO World Heritage Site. In its surroundings, we can visit temples, stroll in a variety of parks and gaze at the island from the hill top. And of course, for the lovers of good food, Penang is home of Malaysian's best dishes! No surprise then that I quite enjoyed this stop in our Malaysian trip.
George Town, from colonialism past to street art present
Colonialist and religious architecture
Far from being a quiet little tourist city, George Town is actually the country's second most populous city. In 1786, the British established here their first south east asian colony. That's why while wandering you will stumble upon many buildings showing the city's colonial past. Many ethnicities, with different religions, created those buildings with various shapes and sizes. Plus, many were built before the second world war and are still standing today, which makes this place unique throughout Asia. This eclectic architecture style and its state of conservation make it clear why the oldest part of the city is listed as an Unesco World Heritage Site.
On Penang island, like everywhere in peninsular Malaysia, there are three main religions: islam, buddhism and hinduism. Therefore the city is full of hindu and buddhist temples as well as mosques. It's here I visited my first mosque: Masjid Kapitan Keling. Beforehand, to respect their religion, we need to cover. So Franck wraps up his legs. I cover my legs, shoulders and loosely cover my hair. And we do need to take off our shoes, even for me! Yes, even if I stay in my wheelchair.
Inside, there is a quiet peace. For now, prayer mats are empty as this is not the right time for it. A young woman guides us through the mosque and explains to us the fundamental of Islam. She willingly and openly brings up topics about women in Islam, and Islam and terrorism. On our way out, we notice little leaflets available at the mosque entrance. Since we arrived in Malaysia, this is the second time we clearly see their effort to make a stand against terrorism. Already in Kuala Lumpur we saw a huge banner about it in front of the national mosque.
Accessibility : At the beginning of the path leading to the mosque entrance, there are small poles which prevent wheelchair users to go through. The guide located at mosque entrance can remove them to let you pass. If they do not see you, don't hesitate to send someone! At the end of the path there is a small step to get in.
Iconic street art
After the visit of the mosque, we continue our day in the streets of George Town. I am quite fond of street art, so I was delighted when I saw all those walls covered with various paintings. Some of them picture past daily life, while others are more humoristic. Many passerby, tourists or locals, are playful around these paintings, which look like they were made for this.
Chew Jetty, historic waterfront settlement
Despite all the souvenir shops, I loved strolling on those small wooden walkways. I felt a calm and serene environment in this out-of-time charming place. I guess we were lucky the jetty was not crowded that day. So we were almost the only ones wandering between these elevated houses above the water. What I really enjoyed was going a bit off the main path, only to find a more authentic feeling. By getting lost, we discovered even smaller and tighter boardwalks, where people still live here. Souvenir shops becoming houses where we can assist to daily life activities.
Stroll between parks and temples in Penang
Penang hill
Penang hill is the place to go to observe the island as a whole. From the hill's summit, towering Penang over 800 meters, the view is stunning. We can see not only the island, but also the main continent and the sea and bridges between them.
The main attraction here is definitely the view, but there are also a small mosque and a hindu temple to visit if you like. They are far from being the nicest ones around, but you did climb up all this way, so you might as well have a look !
Accessibility : Penang Hill is one of the most accessible tourist places we visited in Malaysia. To get up there, you will need to board the funicular railway. Good news : this railway is free for disabled people (whatever is your nationality) whereas it will cost a non-Malaysian adult 30 MYR for a return ticket. There is no issue to get to the funicular's door, as you will find a wheelchair friendly gate and the staff will help you until you are inside the cabin. This help is necessary since there is an uneven ground between the cabin and the platform.
Once at the top, near the viewpoint, there is an accessible toilet, unfortunately it is impossible to transfer sideway from the wheelchair to use it. As for the food, well I didn't see any ramp nor access for wheelchair to go to the restaurant. So you can only use the two-level foodcourt. The bottom one seems not accessible, but the top one is.
According to Lonely Planet, it is possible to walk on the road downhill from there to the botanic garden. Only 5 km and 1h30 estimated duration seemed fine to me, I told to myself I could do it. Well no, this road is way too steep for a wheelchair user. There are pickup trucks that can take you to the garden for 80 MYR per person, but there is no accessible one. As for us, we ended going to the garden another day, directly using a Grab from our hotel.
Kek Lok Si Temple
Let's go downhill. After a return trip into the funicular railway, we ordered a Grab to get to the buddhist temple Kek Lok Si. It was a good idea since this temple in located on the top of a smaller hill too. Once there, we don't know where to set our eyes on: we are surrounded by pagodas, giant bronze statue and smaller stones statues. Some of them are in the shape of buddhas, dragons and other typical creatures we can see in asian temples. Others, way more cute, represent funny animals.
As I got closer to the temple, I started to see all the magnificent details. The wood is colourfully painted and many pillars are finely engraved with religious scenes.
Accessibility : If you ride a taxi, Uber or Grab to get there, ask your driver to drop you off at the very top, on the highest parking, next to the giant statue. Otherwise you will face a steep road if you start lower.
The botanic garden
It is only the day after that we ended up visiting Penang botanic garden, Malaysia's oldest botanic garden. A well paced and enjoyable stroll where you can encounter different sorts of monkeys. But we were surprised to be face to face with… a scorpion ! And a big one! About 10 centimetres I would say, and very near my feet when I saw it. Chills ran down my spine! But after putting some safe distance between it and I, I decided to film it to show to you this lovely creature, and its not-scary-at-all stinger.
Accessibility : It is easy to wander in the wheelchair in the botanic garden. The path that cuts across the middle of it is not accessible however. You are better off using the paths that go around the garden. They can be a bit steep at time, so you might need someone to help you depending on your health condition if you are in a manual wheelchair.
To go to the lilly ponds, there are two paths. Be sure to take the first one coming from the entrance, as the other one have stairs. The toilet for reduced mobility person is not accessible, as you cannot u-turn inside. Moreover, when I was here, the door was not closing.
Penang, Malaysian food street capital
Penang is known for its food diversity and quality. So as food lover as we are, we just couldn't resist to try all these local dishes. I must admit that during our 4 days stay we spent a lot time eating and wandering in local food markets at night! Penang's reputation is well earned: the food is definitively the country's best, and even the best I've tasted during our south-east asian journey (Malaysia, Singapore, Indonesia and Myanmar). Here, you will find all Penang's signature dishes of course, but also all the Indian and Chinese dishes from around the country. On the top of this, it is very cheap! My personal choice? The char key teow, a dish with soja-fried noodles with different spices, mixed with shrimps, soja sprouts, eggs and sometimes bacon. As for Franck, his favorite was the assam laksa, a spicy soup with rice noodle and fish. Finally to satisfy our sweet tooth, we indulged ourselves with the apam balik, a coconut milk pancake, often filled with crushed peanut.
Accessibility : Unfortunately most of the restaurants are not wheelchair friendly. Lebuh Presgrave market is partially accessible. The part giving on the street is easily manageable in a wheelchair. Further inside it gets more difficult as the hallways are narrower and filled with obstacles.
Accessibility in Penang
If you want, you can get directly to Penang by plane using the airport which has regular flights from other major Asian cities. Otherwise, since Penang is an island, you can either get there by crossing a long bridge or ride a ferry. We choose the latter option. Getting in the ferry was easy, since pedestrian (with or without wheels!) get in using the same way as cars, so there is no step. Once on the ferry, we stayed at the same level. And if you need a seat, there are plenty available at this level. However, to get at the boarding gate (peninsular side) was difficult as there was roadwork happening around the terminal. Indeed, in July 2017, the construction work forced the pedestrians to go through many stairs to reach the gate. To face this issue, a free shuttle was available from the bus stations all the way up to the terminal. This shuttle was supposed to be prioritise for the disabled, the elderly and pregnant women. But many people were using it, with no priority whatsoever. I had to get upset against a women, who was asking the driver to not take me in the shuttle since my wheelchair would take too much space! Plus, the shuttle is not accessible. You need to climb steps to get in, and I don't think a non-foldable wheelchair would fit in the trunk. Electric ones are definitely out of the question. Hopefully the construction work will be over soon (maybe it already is?) and that the path from the bus station to the ferry terminal will be accessible.
Once there, we mostly walked around while being in George Town. When we wanted to go further out, we used Grab, Malaysian equivalent of Uber. There is no accessible cars but if you can transfer yourself and if your wheelchair is foldable, it is a good option.
We stayed at the Summer Tree Hotel. Its entrance has a ramp, which is too steep to use it alone (in a manual wheelchair). But it was not a problem as there was always a staff member here to help. Inside, wide elevator help you getting on the upper floors. Our room was very spacious so I could move around in my wheelchair without issue. Nonetheless, the bathroom is not accessible and you cannot enter it with a wheelchair. There is no handle bar and you need to be able to stand to take your shower.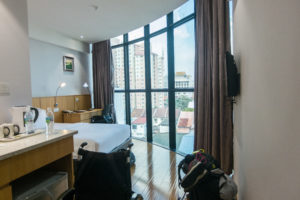 Depending on the neighbourhood, George Town is more or less easy to go around in a wheelchair. Chinatown is the most accessible part of the city. You can go trough it via Campbell Street quite easily. There are curb cuts and I even saw a disabled parking spot. The only issue I faced was a restaurant which put tables on a sidewalk. So I rolled on the road only for few meters. On the opposite, I was always rolling on the road in Little India. In this neighbourhood, either there is no sidewalk, or they are overloaded with goods and stuff.
For the foodies in wheelchair, I recommend going at least once to the Red Garden. It is accessible and you can try many different local dishes.
If you would like to have more information about travelling in this country you can read about all our travel destinations in Malaysia and their wheelchair accessibility and discover our travel budget and itinerary.