Wheelchair vacation in France : The Hérault and Tarn territories
For many travellers, the south of France it's just sun and sea. But it is much more than this. While visiting the Hérault and Tarn region, I discovered a rich cultural history and many outdoor activities for disabled and wheelchair bound visitors. And let's not forget the delicious local cuisine going from simple flavours to more elaborate dishes.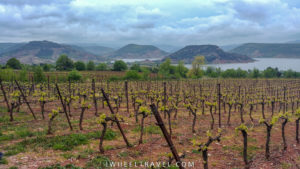 Hérault and Tarn museums in a wheelchair
I have to admit, this is the first time we were visiting the Hérault and the Tarn departments. Since it was a bit too early in the year to put on our swimsuits and enjoy the coast, we chose to go inland to discover the history of these territories.
Argileum, Saint-Jean-de-Fos

Argileum is a museum that takes us through the past of this former potters village, similar to many that used to exist in the region. It is a very practical and hands-on museum. No matter how old you are, there is always something new to learn about the ceramics craft. Every room is well-done and spacious, where you will be able to look at nice potteries, more specifically the particular ones used for the roof and the gutter in the village. But the highlight of the visit is the pottery making demonstration by Cyril, the museum potter. And if you have kids which want to practice this art, a workshop hosted by Cyril is available during school breaks (reservation required).

Accessibility: The museum is labelled Tourism & Handicap for motor and mental disabilities. Therefor there are disabled parkings spot on the left when you enter the main parking. You will also find accessible bathroom. During the visit, everything is at wheelchair height and it is easy to roll around.

The bell and cowbell museum, Hérépian

Another craft of the region: bell and cowbell making. Bells are a part of our French cultural life, whether it's in our everyday routine or during major life events. Still, Franck and I never question ourselves about their making. Well, after this visit, we now know much more about bells, cowbells and other sleigh bells! Through an educational tour, we learnt about their various use, from ceremonies to transhumances and how to they are made. I was surprise to see the precise work required to make a particular sound. One millimetre off, and the bell will not sound has expected! As for Franck, he had more fun ringing the museum massive bell at the end of the visit!

Small tip: To get the most out of the museum, do the guided tour. The guide is very passionate and have deep knowledge about this craft.


Accessibility: Perfect for wheelchair user. The museum is labelled Tourism & Handicap for motor, mental and visual disability.

Textile Museum, Labastide-Rouairoux

From the outside, this museum does not look very impressive. But inside… it has been a fantastic discovery. Put it simply, it was my favorite museum during this trip. Located inside an former 19th century fabric factory, this place tells the story of the textile industry golden days, that used to flourish in this region. But in the 70's, with the rise of the ready-to-wear, many factories shut down, one after another. Local still have a hard time talking about these troubled times.


We discovered the full process from the different fabric raw material all the way up to the coating step. The tour is really well made and authentic, each step has an actual "from that time" working machine, so you can see how it is done. Seeing all these old movings part in action is just hypnotizing. From the color researching lab, to the spinning and weaving process to the final quality control, we were amazed like children!

Tips: Once again, I recommend you take the guided tour. It adds great value and you will not see the machine running if you don't.


Accessibility: First thing to know: Don't park in the main parking facing the museum. There is an accessible spot at the back of the building going through the "rue de la Rive". The museum is labelled Tourism & Handicap for motor, mental and visual disability. Therefore, it is very easy to roll around and you will find accessible toilets.

The ham and salt-cured meat city, Lacaune

Finally, if you still have some times and are fond of salted deli meats, know as "charcuterie" in French, you can hop by Lacaune, well known of its salting crafts. It is possible to visit the Oberti house (unfortunately closed when we were there). If you want to read some texts and see some pictures to learn more about the impact of the deli and salting industry on the city, you can go to the "maison de la charcuterie", which is accessible. They also have accessible toilets.
Wheelchair friendly strolls and accessible outdoor activities
You know me, I love to discover new landscapes and outdoor activities. So I did not hesitate one second when I heard about the accessible activities in the Tarn and Hérault. Let's go for some really nice strolls !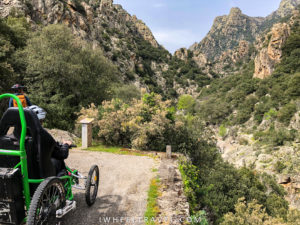 Wheelchair friendly strolls in Hérault

Le lac du Salagou (Salagou Lake)

A leisure area has been been built on the shore of this artificial lake. From the wooden deck you can have a nice view on the stunning red-tinted landscape. This panorama with mountains rich in iron oxide surfacing out of the water remind me of some places in New Zealand. For our host Claude, it looks more like some area in the US. In any case, it is a peaceful spot, an ideal place to relax. To see a more breathtaking view dominating the lake, you should go for a ride through vineyards and pretty villages on the east plateau.

Accessibility: There are two accessible parking spots right at the site entrance, and two more a bit further towards the lake. There is an accessible path down to the lake shore, and in the summer, there are beach wheelchairs.

Le pont du diable (The Devil Bridge), Aniane

A quick stroll which is definitely worth it. Right at the end of the accessible path, we discover a stunning view on the devil bridge and on the beautiful Hérault canyon. Everytime I see a canyon and their clear fresh waters, I just want to go and ride a canoe! Too bad the weather was not in our favor… that's ok, next time for sure!


Accessibility: The area is designed to facilitate people with motor and visual disabilities. The parking lot has many designated spots for disabled. The path to the bridge is completely accessible, but it ends at the bridge with deep cobblestones. It is not an issue as the view is perfect from there.

Along the path is located the "Maison du Grand Site Vallée de l'Hérault", an important tourist information site containing a mini-museum and a coffee shop. You will have accessible toilet there plus a wheelchair to rent if needed.

The 9 locks of Fonseranes, Béziers

This promenade brought me back to my sunday family strolls along the Nantes to Brest waterway. Twopaths, boats and locks: it's all here! But this site is way more impressive thanks to its 9 successive cascading locks: a genius solution designed by Pierre-Paul Riquet to achieve a 21 meters drop in the waterway across 312 meters.

If you want to enjoy the site at its fullest, the tourist information site offer an immersive film projected on 3 differents walls, a treasure hunt for children and there is even a good restaurant with a panoramic view on Beziers and the castle. You will find all the information on their website.


Accessibility:

There are several disable parking places on the toll parking, and three others on the lower side of the locks, on the other side of the waterway (access via "l'allée des éclusiers"). From the toll parking, you need to follow the accessible boardwalk to reach the locks. It is upward, I did it on my own but you might need someone to help you depending you health condition.

When you are on the bottom side of the locks, and you want to go up, the path is steep and quite long. But no worries, you can ask for help. To do so, you just need to press the button at the bottom of the path and someone will come with a small accessible electric car, kind of like a big golf cart.




The antique Mediterranean garden, Balaruc-les-Bains

If you are staying at Balaruc-les-Bains for a thermal cure or just to enjoy the sunny beaches, you'll notice immediately the nice accessible stroll along the sea on the Spinoza Promenade. But what you might miss, only few meters away, is a hidden green setting: The Antique Mediterranean garden.


It has be designed from the start as the green lung of the seaside resort. It was part of a plan to stop, or at least slow down, real estate development in the area and keep a green space in the city. However, don't expect a typical French garden like Le Nôtre ones. Here, it is all about Mediterranean flora preservation, and presented as it would have been during ancient times.

They are several sections, each representing one specific type of Mediterranean gardens from that period. But they all have something in common : plants are not redistricted by the human hand, as it was back then. Therefore, you will glimpse no geometric trim, and see that weeding is kept to a minimum. Indeed, all herbs and plants had a part to play in the roman era.


All along the visit you can find information signs, and an audio guide is available. But I would still go for the guided tour (every Wednesday at 10 am, reservation required). I have learn many things during this visit and I am convinced the walk would have not as interesting without it. Our guide was passionate, sharing with real enthousiasme his deep knowledge about Antique garden. From the daily routine of the wealthy (only rich people could afford a garden), to the meanings of plants, their medical benefit and culinary uses.

Accessibility:
There are two disabled parking places at the museum entrance. The site is wheelchair-friendly and is equipped with audio induction loops and audio guide.
Accessible outdoor activities in the Haut-Languedoc Regional Natural Park
As I said earlier, south of France is not just beaches, Mediterranean sea and sun. The Hérault and Tarn departments are home to a great middle-mountain area: the Haut-Languedoc regional natural park. If you have been following my adventures for a while, you must know that since I came back to France, I have been doing more and more high-altitude accessible activities. So this was a must do for me.
Joëlette stroll in Prémian

Our first experience inside the natural park will be a hike using a joëlette in the whereabouts of Premian. Franck and I were in good hands, led by Pierre-Franck (and his friends!), medium-mountain guide and owner of the ecogite we were staying in. He knows Premian and its surroundings perfectly and wishes other could discover this little hidden gem too. This is why on top of his accommodations, he offer several joëlette hikes options that you will find on his website. As for the prices, feel free to get in touch with him via his contact form.


So here we go for a two hours ride in those mountains, where we will go through the "voie verte", small gravel road but also on narrow bush trail, right in the forest. We are making a few stops along the way, to admire the small village and the valley from higher grounds.
During this trek, Pierre-Franck is taking the time to teach us many things about local geology, wildlife and flora. A perfect occasion to learn more about nature that surrounds us. We discovered something very specific about the area we are in: trees and plants can change drastically in just few metres, depending if exposed to oceanic or Mediterranean climate. Pierre-Franck also brings to our attention diseases that affect local trees and tells us about the devastating and invasive Asian hornet.

Off road weelchair in Héric canyon

The day after, we meet with Julien from Escapéo for an off road wheelchair ride in Héric Canyon (gorge d'Héric). Franck and Julien will follow me using a electric mountain bike, so it won't be too hard for them to catch up. You might not know it, but an off road wheelchair can go up to 40 km/h ! I was eager to ride an off road wheelchair again, as I've greatly enjoyed it last time in the Bozouls canyon in the Aveyron. It was awesome to get freedom and speed feeling again. For me, this is the best aspect of off road wheelchairs is to be able to ride freely in the wilderness in complete autonomy.


This time, we didn't push the FTT off road wheelchair to its limit, using it on very rough terrain. However, if you are keen on doing something more extreme (like I do sometime!), Julien will be more than happy to tailor an experience just for you. All things considered, I am glad that Julien chose this place for our trip. Héric Canyon is splendid. I haven't heard about it before, so I discovered it with amazed eyes. At some point, my heart was in two places at once: either stop to admire the canyon or go full-on on the off road wheelchair to get that speed thrill! All along the way, there are natural pools where you can bath but they are very difficult to access for people with disability.

My accessible go to places
Restaurants

L'Ocre Rouge, 12 place de la Croix, Hérépian.

A very fine restaurant where local products come first and are deliciously cooked. It was a delight for our taste buds, from the "mise en bouche" to the dessert.

Accessibility:
Park near the restaurant is difficult. There are "stop-only" parking places, where people who own a disabled parking card can use to park, but are wrongfully used most of the time unfortunately. An outside ramp allows wheelchair user to access the restaurant easily. Once inside, everything is accessible, so as the toilets.

La Pourpre et Les Oliviers, 135 Route d'Aniane, Saint-Jean-de-Fos.

Another restaurant where you can taste typical dishes made with local products. We ate well and the staff is very welcoming.

Accessibility:
The owners are in the process of improving the restaurant accessibility in order to get the label Tourism & Handicap.

You can park in the courtyard, covered in compacted gravel, then you'll find a concrete ramp to access the restaurant. It is easy to roll around inside. Toilet are not completely accessible, but it is possible to get inside and do a lateral transfer.

Le Bistronome, 1 Rue Charles Barthes, Saint-Pons-de-Thomières.

This restaurant offers locals dishes as well as tapas. It has great value for money, and has a great layback feel to it. Also, the restaurant is located inside renovated stables, it is very cosy !

Accessibility:
The restaurant is accessible. Accessible toilets are located inside the second room. There is a disabled parking spot few metres away from the restaurant (Place du Foirail).

Relais de Fusies, 2 Rue de la République, Lacaune.


This restaurant has a nice settings, and the accommodations reception, right next to it, is remarquable with lavish woodwork paintings. But the most important part: the food is delicious, and the staff is very knowledgeable when it comes to wine pairing.


Accessibility:


There is no parking in front of the restaurant. The best solution is to park on "place de la mairie". There are two entrances, both accessible: the main entrance and a smaller one at the bottom of "rue aux Herbes".

Lo T'Chapaïre , Mons.


This is a simple, no-fuss yet delicious grill restaurant.

Accessibility:


No disabled parking place, but there is no problem going around and inside the restaurant. Toilet are accessible.

L'Arôme, 22 Avenue du Port, Balaruc-les-Bains.


An outstanding address in Balaruc. You'll discover an inventive cuisine, cooked with fresh and local ingredients. Chef Jean-Jack Monti also brings a delicate Asian touch to his dishes, which I quite enjoy. The presentation is perfect.

Accessibility:
The restaurant is accessible via a ramp, and has accessible toilets. There are disable parking places near "square de la plage" and "place Lucien Saleté". The restaurant is labelled Tourism & Handicap for mental and hearing disability.
Accommodations

Eco-gîtes les Camparols, Hameau du Poujol – Route de Fouilho, Prémian.
Located right in the heart of the natural regional park Haut-Languedoc, these are sustainable and accessible. The owner Pierre-Franck & Maïlys Luye renovated this old barn with a complete sustainable mindset: natural mortar, solar panels, composting toilet… And the icing on the cake : the "secadou" cottage is wheelchair-friendly. It is labelled Tourism & Handicap for motor, mental et hearing disabilities. Therefore it is easy to roll around, doors are easy to manipulate, there is an italian shower and a shower seat can be ask if needed.

Le camping des sources chaudes, Domaine de Saint-Michel, Lacaune.
This camping have cottages labelled Tourism & Handicap for all disabilities: The Ockland cottage (6 people, 3 rooms) and some of the Charlay Confort cottages (4 people, 2 rooms). The camping is pleasant and family friendly. There are goat, pigs and chicken pens.

Si vous séjournez au camping vous pouvez également profiter gratuitement de la piscine "Espace des sources chaudes", située à l'extérieur du camping, qui est labellisée Tourisme et Handicap pour les quatre familles de handicap.
If you stay at the camping, you'll also have free access to the "Espace des sources chaudes" pool, located right outside the camping. This pool is labelled Tourism & Handicap for all disabilities.

A bit further up the hill, there is the "Centre de bien-être des sources chaudes" spa if you would like to give yourself a treat: hammam, massage, jacuzzi… The entrance fee is not included with the camping booking. To enjoy at the fullest the baths, jacuzzi and hammam, you'll need to be able to transfer since they are not accessible. However, it is possible to roll around the whole facility, the front desk is at wheelchair height, plus there are accessible showers and a disabled parking place.

Le Sarac

, 11 rue Eugène Selmy, Clermont l'Hérault.

This hotel has two accessible rooms. The one we were staying in gives directly on the terrace. It has a nice view and better light, but in the high season you better be an early person because breakfast is serve on that terrace. The room is simple, tidy and clean. There is an Italian shower in which a shower seat can be brought out if needed. There is a toilet handrail. One thing to look out for: the night access door is less than 90 cm wide but my wheelchair went through.

Opéralia, 24 Avenue Pasteur, Balaruc-les-Bains.


This hotel is perfectly accessible and very pleasant. The room is very spacious, so is the bathroom (you need to ask the reception if you need a shower seat). There is even a small private deck .



Did you like this post? Feel free to check out my Patreon page to see how you can support the creation of new ones and be a part of iwheeltravel!
And of course, you can share, like and subscribe, to be aware of the lastest posts.
This post has been sponsored by the Haut-Languedoc Natural Parc, The Hérault and Tarn tourism offices. However, opinions expressed here are my own.