Presqu'île de Crozon, Finistère: To the end of the world in a wheelchair
Do you know the part of Brittany in France called Finistère (literally "the end of the earth")? This beautiful and wild land surrounded by the sea attracts more and more people every year. But to me, it is more than gorgeous landscapes… It is home. The land where I grew up. Just look how happy I am, playing in these coastal dunes!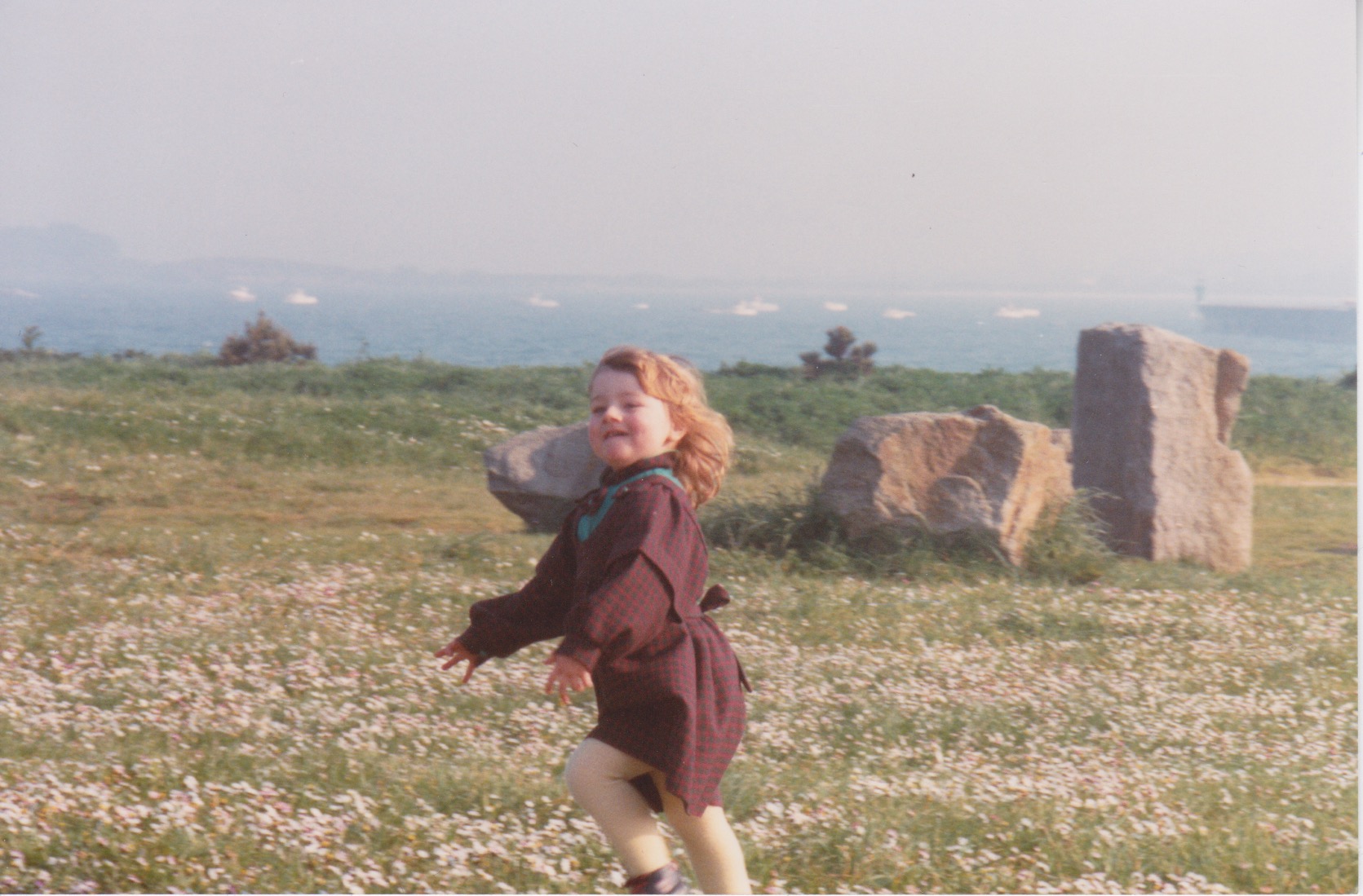 In the beginning of September, I came back there to celebrate one of the most beautiful day of my life: my wedding! Indeed maybe you remember that in last January Franck and I visited London for a few days. A trip that I will never forget as Franck proposed to me on a lovely night while we were admiring Big Ben. So a few months later we got married… in the Finistère! Getting married there was obvious for both of us! We are not here to talk about my wedding day, but spending some days in my homeland made me want to share this place with you. To show you how magnificent it is. So let's discover the Finistère!
There is a part of the Finistère that I really like : the Presqu'île de Crozon. I enjoy to go for walks there. It fills me up with energy! Last February, while I was staying at my dad's, I took some time to rediscover some of the most amazing sites on this peninsula. So let's go back in time and let's get a breath of fresh air in Brittany!
Cap de la chèvre
Surrounded by moor, with powerful wind blowing in my hair while I'm starring eyes wide at the ocean…We are at the Cap de la chèvre. Landscapes are wild. Magnificent. When looking far away into the horizon, the sea and the sky meet and seem to be as one. Merging with this infinite blue, yellow spotted shrubs, all over the path. We bear witness to the towering cliffs throwing themselves onto the ocean.
I could stand here and watch this scenery all day. But, to my right, a quick glimpse to the "pointe de Pen Hir" and its rocky islets is calling me to continue our tour of the peninsula. It does reminds me of another "end of the world" on the opposite side of the globe, Nuggets Point.
On our way back we pass by a war bunker, as well as an old semaphore telegraph. It reminds us that this quiet and peaceful place was a war zone not so long ago…
Wheelchair accessibility:
Parking
There is not reserved parking places for people with reduced mobility, but you can easily park on the gravel parking right before the start of the path.
The parking can be irregular with potholes, so watch out and go around them if possible.
Path to the cap
To admire the stunning view, you will have to earn it! You will need to stroll a few hundred meters. Right off the parking, toward the sea, you will find a small path on the right. There are wooden poles that you can go trough with your wheelchair, but after that you will encounter more potholes. I had to zigzag between them, at the time filled with water and turning them into big pools. But I assure you, it is not always as rainy as in February 😉.

Few meters down, the path splits in half. The one on the right is made of dirt. There are stones and holes to go around at first, then the ground gets better but is still a bit rocky. It shakes a bit, but it is doable.
Pointe de Pen Hir
Another stunning scenery! From the view point, we catch sight of the Cap de la chèvre. The last sunbeams of the day make the place even more beautiful… The sun breaks trough the clouds and the sunbeams light up the craggy cliffs.
On the other side, when looking inland, we can admire the moor covered by moss and rocks. Wow, I love my homeland! So beautiful and wild! So different from many urbanised coastlines in France and Spain.
Wheelchair accessibility:
Parking
It not easy to get around the parking in a wheelchair because the ground is covered by rocks between which we have to zigzag.
Paths to view point
There are two pathways. The main path leads to the view point on the ocean and it easy to roll on in a wheelchair as it is made of compacted tiny gravels. The second path leads to the memorial. It is very narrow so that's 's impossible to follow it in a wheelchair.
Pointe des Espagnols
The Pointe des Espagnols landscape is less exceptional but it's a place stepped in History. From this cap we see the city of Brest on the other side of the estuary. Indeed there is only 1.8 kilometre of water between these two places. So crossing to Brest by boat would be quite fast whereas it would take us more than an hour to reach it by car!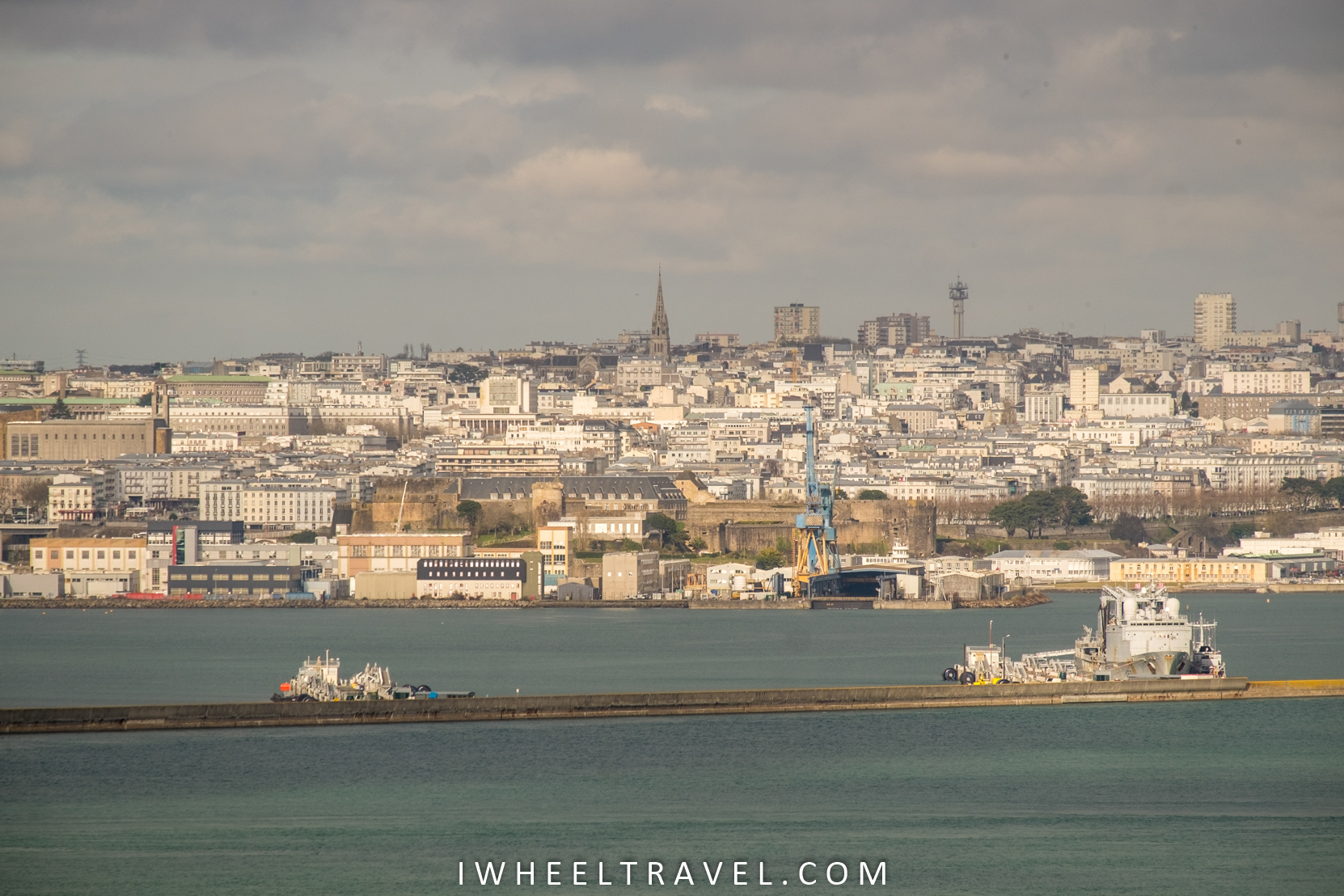 Seeing this panorama we can easily understand why the Pointe des Espagnols is a crucial place to control. It is the main sea access to the city and a strategic defense site, as Brest hosts an important military base. Along centuries, many equipments and military buildings have been built in the Pointe des Espagnols. For some years the place was almost demilitarised but it was remilitarise following the September 11 attacks. And, of course, many battles took place here along centuries.
Actually, the name Pointe des Espagnols (Spanish point) comes from one of these battles. This one happened in 1594, with Spanish forces against France and England. After they resisted for more than a month, 400 Spanish were defeated by more than 5000 French and English men.
Wheelchair accessibility:
It is quite hard to get around in a wheelchair alone because there are 300 metres from the parking to the view point, all on a graveled pathway. Plus, we have to cross a road without zebra crossing.
The Presqu'île de Crozon is only one part of the Finistère… This whole area is filled with many other treasures. So if you stay in bit longer in Brittany, you can also visit the south and the north of the Finistère. In any case don't miss the culinary specialties! You really have to taste the kig ha farz from the north Finistère and the Kouign Amann from Douarnenez. Bon appétit!