Wheelchair travel in London: St Paul's Cathedral, British Museum and Camden Town
Visiting St Paul's Cathedral in a wheelchair
Let's continue our 3 days wheelchair trip to London. After a first day to see accessible places south of the Thames, our second day started nicely with a great full English breakfast at the hotel pub. It was a typically British experience, with bacon, eggs and black pudding. The pub definitely added a nice cosy feeling to it. After such a filling meal, we headed up to the iconic St Paul's Cathedral.
To get there, we crossed the Thames on the Millennium bridge. This pedestrian only bridge is known for its design, but also because only two days after its opening in 2000, it had to be closed down for months for security reasons: it was oscillating sideways! But don't worry, it is now very safe to cross it, and it is perfect for wheelchair users. No elevator but a long a steady ramp to get on top. It is relaxing to cross this car-free bridge, and you get a nice view directly onto the cathedral.
I have to admit, I was quite eager to discover this cathedral. I haven't been disappointed! Not only the inside is beautifully decorated, but it is also so huge. It feels really majestic and calm at the same time. Too bad picture were not allowed. But the thing that really surprised me was the experience of the visit itself: the staff is super friendly, always keen on helping you or giving you tips, and you get an awesome personal multimedia guide. With it, you can go at you own pace, using different itineraries: short of fully-detailed.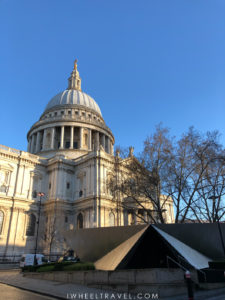 I have learnt so much about historical big events and small anecdotes. About the rise of the old cathedral, its fall in the great London fire and its reconstruction. About the people defending it during the second world war bombing and so on. The 30 minutes I thought I would spent there ended up well over 2 hours and a half! This is definitely another wheelchair accessible must do in London and it's quite family friendly. And if you get hungry, you can have a break at the underground café, right by the crypt.
Accessibility:
There are many steps at the cathedral entrance, but everything is planned for wheelchair bound visitors. There is a side entrance (facing south, straight from the millennium bridge), where you will be welcome by a staff member. From there, you will access the cathedral main floor via an elevator. You can also access the crypt using this same elevator. The only part that is not accessible is the upper floors, the whispering gallery and the rooftop. The access to the top is very tight and narrow (according to Franck): there is no way to add an elevator there. To cover for this, you can watch a very detailed video about it on your personal multimedia guide. And the access to the cathedral is free for disabled and their companion instead of £20 each. They have accessible restrooms at the crypt level.
British Museum
As for our afternoon, we decided to head up to the huge British Museum. It hosts many collections and has some well-know artefacts, such as the Rosetta Stone, many mummies and even pieces of the Mausoleum at Halicarnassus, one of the ancient seven wonders. Ancient Egypt has always been a favorite of mine so I could not miss this opportunity, and beside, it's free! Although donations are recommended. It's a gigantic place, so plan some time to visit at least two or three expo that you are interested in. We stayed there about 3 hours, and we covered the Egypt section, the Asian section, the Maya part and the ancient Greece. Also, on the map handed to you at the entrance, there is a « must do » path which it nice if you don't know what to visit, and you don't want to get lost.
Accessibility:
The whole museum is wheelchair friendly. Two elevators are available on both side of the main entrance, right by the stairs. Once inside, there are plenty of elevators to get where you want to go. It can be a bit confusing (some elevators only reach certain floors) but everything is detailed on the map you can ask at the main gate.
Camden Town
To end the day, we rode the bus direction Camden and got off at Camden Town Station. This district is definitely one of my top picks of this London trip. Sure, it's further away and some parts are not completely accessible, but I just loved the vibe there. It has this punk and alternative attitude that London used to be known for. Many shops' fronts are colourfully decorated, rock music can be heard in the background, old stables renovated into small craft shops can be found packed next or under the railway, lots of street arts and so on. It's a maze so full of life! Not everything in this place makes sense, and I mean it in a good way. You can even see giant robots guarding the entrance of a sci-fi clothing outlet. As for our itinerary, we rolled up the Camden High Street and pass the river to reach Camden Lock. We visited the market located in the Lock, and got lost in the small streets around the stables market before heading back to our hotel.
So here we are enjoying our walk along the Thames and admiring all the London lights reflecting on the river. The sun was already gone but this day still had one last surprises in store for me. Remember I told you something unexpected happen during this trip, right ? Well, after a stop to gaze at the lit up Westminster Abbey, as I turned around, Franck was facing me, one knee down. He proposed! I was completely taken by surprise and so happy at the same time. Of course I said yes, and we are now engaged! The rest of the way to the hotel is just blur and swirl of joyful emotions, as I can't remember much else.

Accessibility:
After so many emotions, back to accessibility! As I said it not perfect but there is still many things you can do in Camden. The main street is accessible even if some curb cuts are a bit more rough than in the city center. The Lock second floor can be access but the road is a bit steep (manual wheelchair users might require assistance). Normally there is an elevator inside but it was not in service at the time. Finally, you might face some sets of stairs (3 or 4 steps) here and there. As for the stable market, it is accessible but the ground is covered with cobblestones.
If you want to know more about wheelchair-friendly places on the south bank, be sure to check my 2 other articles about this city trip in London.