Visit Honfleur, Etretat and Yport in a wheelchair
While we were thinking about what to do during the few days between our Christmas in Brittany and our new year eve in Paris, we came up with the idea to spend a weekend in Normandy. To visit Honfleur, Etretat and Yport… We wanted to take some quality time just for the two of us. So what a better way than going back in upper Normandy, where Franck grew up ? Plus, he did visited Honfleur when he was just a boy but he could not remember it very well and he never got a chance to lay his gaze upon the famous Etretat cliffs. As for me, I never visited this part of Normandy either, so our destination was all set!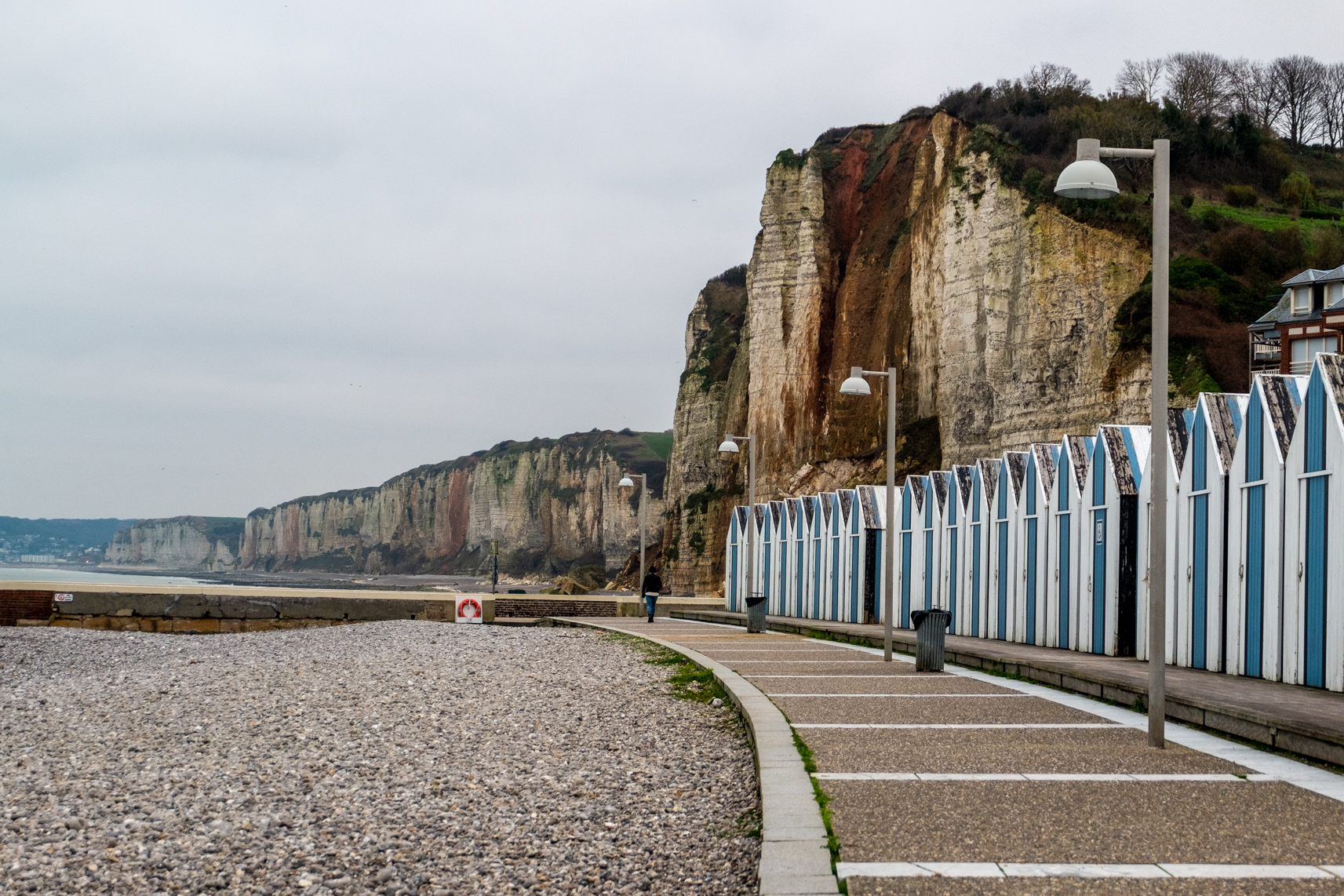 Weekend in Honfleur
Sainte-Catherine quarter
Painters shops and artists workshops to discover, old timber houses and coloured facades to see, mouth-watering culinary specialities displayed at every corner… Here's what to expect going around picturesque and charming Honfleur historic quarter. Whether you are keen on art, architecture or foodie: there will be something for you in Honfleur center.
I enjoyed strolling around these tiny streets, filled with History. While it is the least accessible part of the city due to cobblestones, it was my favorite place to visit. Unfortunately, most shops are not wheelchair friendly ( steps to go inside, cannot move around in a wheelchair once inside). Nonetheless, it didn't stop us from going in and buy local sweet and savory specialities for our family: we just could not resist the urge, they looked so tasty!
Of course, we also could not miss the opportunity to go around the main market. You know me, everywhere I go, I have to visit local markets (maybe you remember our strolls in Kuala Lumpur or London market ?). To me, markets are a living pulse of a city, a place where I can mingle with local life. Honfleur's market is not exception. Besides, it is right next to the odd but stunning Sainte-Catherine church. The market actually continues past the bassin, but this part is way less interesting.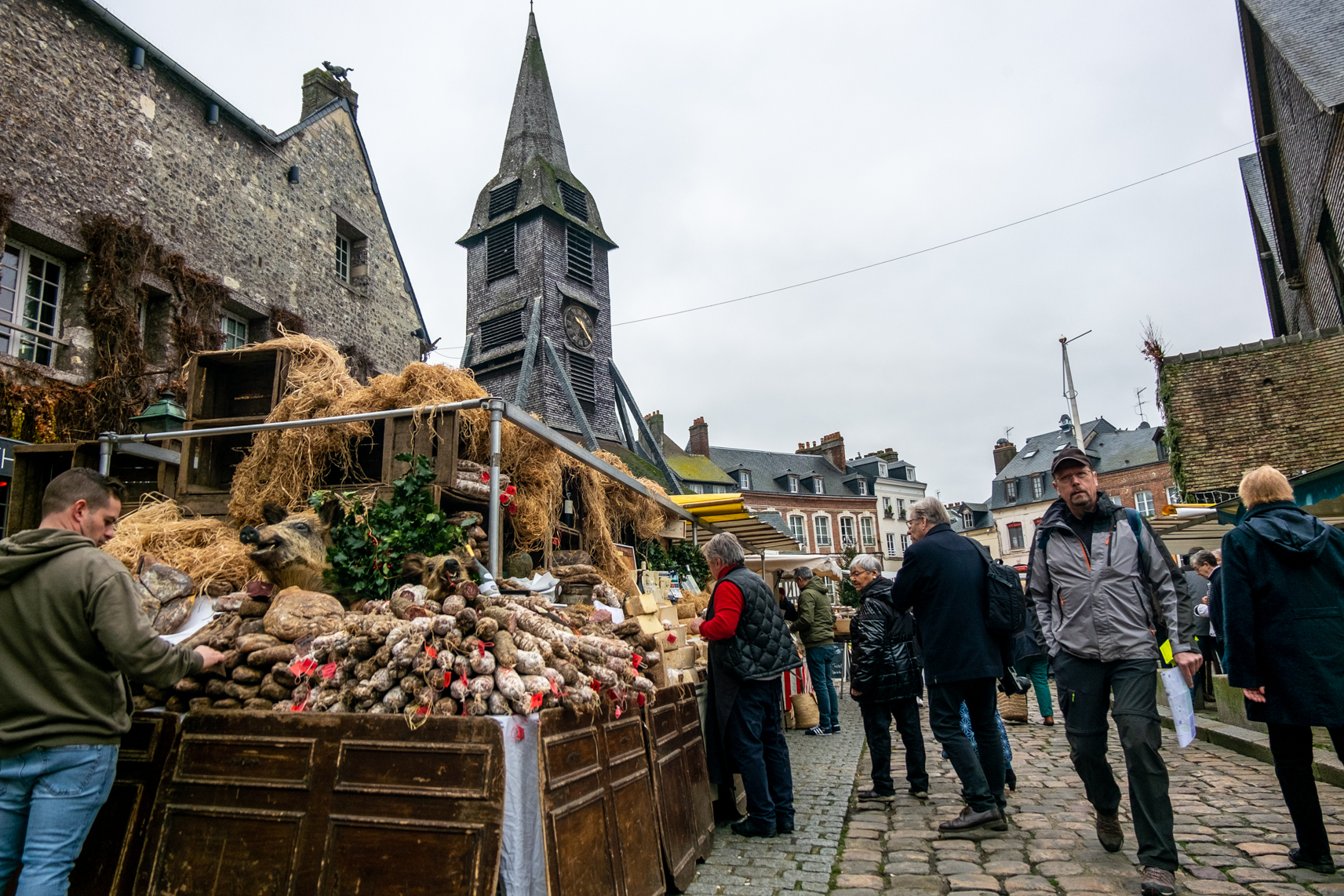 So, why Saint-Catherine church is so surprising ? Build in the 15th and 16th century, it is the largest wood church in France with a bell tower located outside. Indeed, the church and the bell tower are on opposite sides of the market street! Inside is no less of a surprise. We did not expect much, only to find ourselves amazed once we entered the church. The raw timber structure made us feel like inside an inverted viking ship, while at the very end was a magnificent Nativity scene. It was covering the whole church's choir, greatly detailed with many figures, grass and threes. It was, without a doubt, the most stunning scene I ever saw.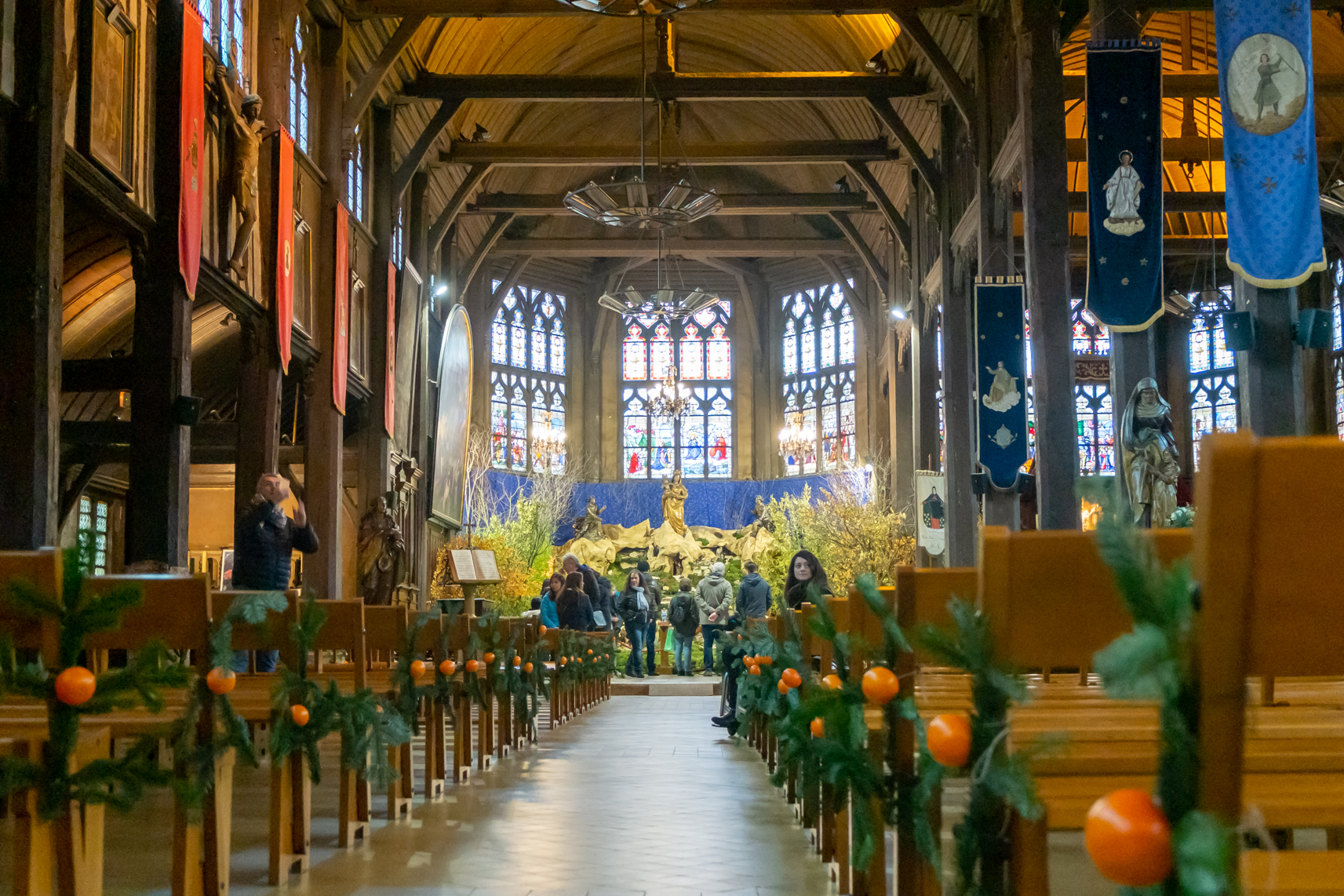 Useful information:
– Market:
Traditional: Every Saturday morning from 8:30am to 1pm. From cours des Fossés to place Sainte-Catherine.
Organic: Every Wednesday morning from 8:30am to 1pm. Place Sainte-Catherine.
– Sainte-Catherine church : Place Sainte-Catherine.

Accessibility:
– Sainte-Catherine quarter:
This part of Honfleur is mostly covered with cobblestones, some harder to roll on than other. Sidewalks are often very narrow and curb-cuts are almost nowhere to be found.
There is an adapted restroom on place Sainte-Catherine, opposite the church.
– Sainte-Catherine church:
It is very easy to visit the church in a wheelchair. The entrance is wide enough and completely flat. Inside, there is a small wooden ramp to access the choir. You will need help to use it, as the ramp is not wide and quite steep.
Sainte -Catherine church entrance
Vieux Bassin
Vieux Bassin (Old Bassin) is a part of the city that seemed to me less authentic, or at least where the "touristic feeling" is more present. Indeed, you will find many souvenirs shops. It is still a quite charming place, and there is a nice stroll to do here. You will see the many colored houses besides the Sainte-Catherine dock, where leisure boat are peacefully anchored.
Accessibility :
It is easy to roll around the Vieux Bassin as it is almost free of cobblestones.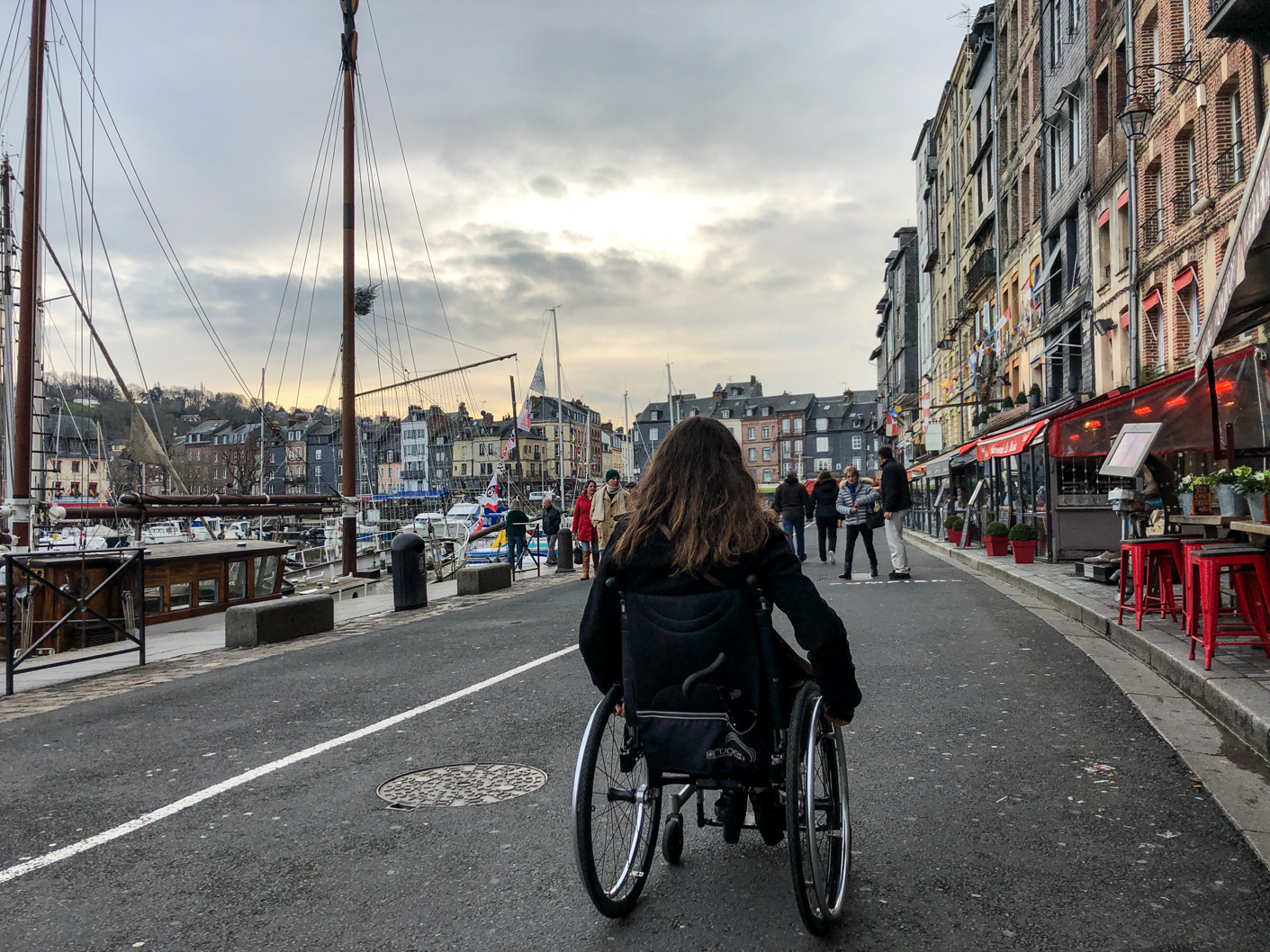 Jardin des Personnalités
To get away a bit from the busy city center and get a different look at Honfleur, we headed towards the Jardin des Personnalités, by the Seine river. This is probably a very nice walk during spring when the garden is filled with flowers. We did see however a particular tree with orange and yellow branches, and learnt about the life and work of famous people from Honfleur: Eugène Boudin, Claude Monet, Charles Baudelaire, Erik Satie, Samuel de Champlain, Charles V, Jean-Baptiste Colbert… This place is filled with boat-shaped gardens, in each of them a stone bust proudly stand in the middle, representing a local past figure. Each statue has an informative panel to learn more about them.
Useful information:
Free entry
Open from 8am to 9pm from May 1st to August 31st and 8am to 7pm from September 1st to April 30th.

Accessibility:
There are many disabled parking spaces on the parc main parking. The garden is an easy place to visit in a wheelchair as the ground is flat and made of concret.
Where to eat in Honfleur?
Here are two places where we have eaten during our stay:
La Cantine : 16 place Hamelin
If you want to discover a less traditional cuisine, this is a good address. La Cantine offer healthy dishes at reasonable price, served in a nicely decorated place. For me, I have vegetables soup and then curry and coconut chicken with quinoa. Franck went for a mushroom pie, fish and leek. The restaurant also offers vegetarian and gluten free options, and it gladly welcomes the LGBT community.
It is located in a zone free of cobblestones. There is only a 50cm wide band of flattened cobblestones in front of the restaurant. There is a 2/3cm threshold at the entrance, which I managed easily in my wheelchair. The main door is not very wide, and while I could managed with my wheelchair, it might not be the case for wide wheelchairs. The height of the table are good to stay in you wheelchair. However, toilets are not accessible as they are upstairs with no elevator.
Bistro La grenouille: 16 quai de la quarantaine
Located on the fishing dock, this restaurant offers fish, seafood but also meat and poultry. The place is not too expensive compared to other Honfleur restaurant. We payed 28 euros for 2 main courses. My fish (Red mullet) was good and Franck mussels and fries were okay.
The terrasse is accessible thanks to a small ramp, but not quite practical as you need to open the entrance door at the same time. To get inside the building, where the toilets are located, there is one step. They are large, but not adapted: a bit cluttered with a changing table and a sink that gets in you way when transferring. It's not perfect, but they still fare better than many restaurants.
Accessible hotel in Honfleur
We stayed in Hôtel du Dauphin et des Loges: 8 place Pierre Berthelot. This 3-stars hotel is located right in the heart of Honfleur, only few meters from Sainte-Catherine church. The staff is very welcoming and have great care towards their customers. The room is nice and has a good bedding. Breakfast is delicious, and most of it is from local producer and/or organic.

Accessibility:
The hotel is labeled Tourisme et Handicap for all 4 disabilities.
– Parking: There is 2 disabled parking spots on Place Berthelot, right in front of the reception. However, you cannot park here on Saturday morning, on market day. There is another disabled parking space 18 rue Brûlée, just in front of the hôtel des Loges. If all places are taken, the hotel staff can remove some flower pots on the side of the street to make an extra disabled parking spot.
– Reception: The hotel front desk is at the Dauphin hôtel, 8 place Pierre Berthelot. There is a step to get on the side walk, but the hotel has a ramp that can be put on request. To request assistance, you will find a push bouton to do so near the entrance.
– Room: The room is fully accessible and adapted. It is located in the hôtel des loges, 18 rue Brûlée.
– Breakfast: It is a self-serving buffet, but the staff is very kind and ask if you need any help.
Etretat in a wheelchair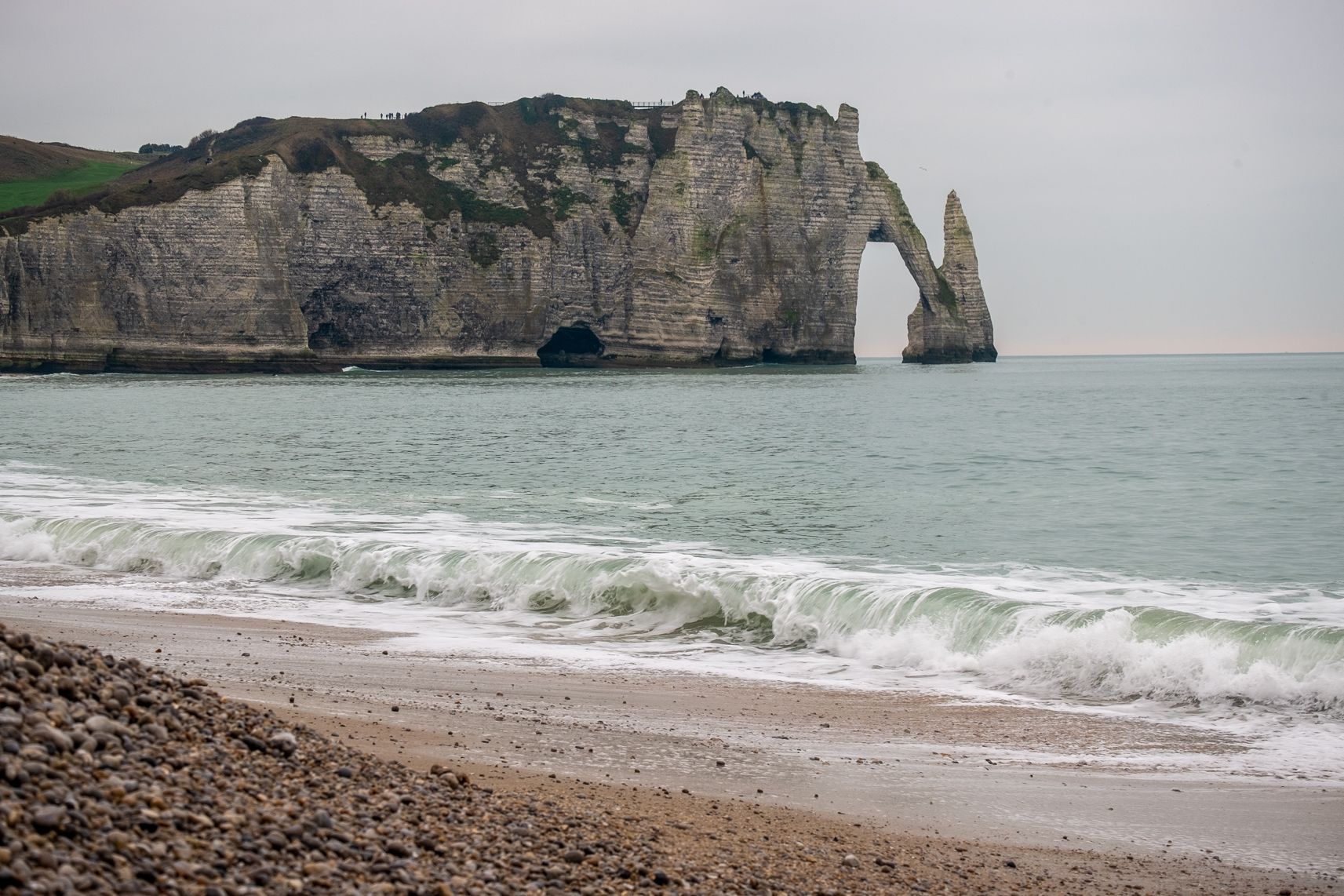 Who has never heard of Etretat and its famous chalk cliffs, which have been proudly standing against winds and waves of the Manche sea for centuries. Probably one of the most photographed coasts in France, due to its spectacular arch. Even before so many photos were taken, they were already made famous by Claude Monet and its painting. So naturally I discovered these cliffs with an impressed eye. Franck reminisced some old memories, seeing the pebble beach like the one he used to go when he was young.

We strolled along the beach then Franck went alone up the path to reach the Chapelle de Notre-Dame de la Garde. It is impossible for someone in a wheelchair to hike up there. The path is very steep and filled with steps.

So we tried to reach the chapel by car, or at least the observation deck, but roads were closed. Too bad, but it's okay. Seeing Etretat cliffs from the sea front is already really rewarding.
Accessibility:
– Parking: There are disabled parking spots on the sea front parking lot, but you need to be lucky to find an empty one. Otherwise you can find a parking right outside of town, about 500 meters away. Access is well thought, as there is a small path leading to it, so you don't have to be on the road. But this path can be difficult in a manual wheelchair because it's not maintained and steep (cliff to parking way).
– Toilets: There are accessible toilets on the sea front, on the left when you are facing the sea. You will need help to use the ramp as it is steep.
– Access to the sea front: There are ramps to access the sea front, however some of them are dead end, ending with a wood barrier. During my visit, only one ramp gave access to the sea front, the most left one facing the sea.
– Access to cliff summit: Impossible in a wheelchair due to the steep path and many steps.
Yport, charming tiny beach
Yport is a tiny seaside resort, located between Etretat and Fécamp, and not very well-known. It's true that the cliffs surroundings it are less impressive than Etretat's, but they are still quite gorgeous to look at. The old boats lying on the beach and the small white and blue cabins certainly add a little charm and picturesque feeling to the place !

Now it is time for me to leave you enjoy the photos below, and see you very soon for new and exciting wheelchair trips !