Surely a lot of people don't even imagine that disabled people, including wheelchair users, can enjoy many mountain activities. Especially not thrilling activities. A few years ago I wasn't aware of all the amazing things that I could do. I wouldn't have imagine that one day I would have hurtle down the slopes of one of the highest French mountains nor that I would be paragliding above them. The fact is: it is possible to experience many activities even with a disability. To do so I didn't need to go far away from home. I stayed in France and spend a few days in the Pyrénées mountains. Here is a quick sum up video of this awesome week!
Hiking in a joëlette, an all-terrain chair
Before these vacation in the French Pyrénées, I heard many times about the joëlette, a trekking chair for people with reduced mobility, but I never tried it. So I was eager to test it and to be able to go on a hike with my close ones. For this first time Franck as well as Aurélien and Hélène, who we've met in town, were coming with me. They also brought their dog, a 4 months husky, which was very excited to run on the fields. As for the joëlette we had one with electrical assistance which was really helpful considering that we had to go through some rough parts of the pathway.
The entire hike is from the Col du Portet to Lake Bastan return. It took us 3 hours and a half to complete these 7 kilometres. That was such a wonderful experience! All along the hike we have seen magnificent summits and slopes, we encountered some cows and marmots and we admired the intense blue of the Oule and Bastan lakes. The Oule lake is an artificial one built as a dam but nonetheless beautiful so we stopped a few minutes to enjoy the view from the GR10 footpath.
Bastan lake is natural, smaller and less impressive than the Oule lake but is as striking. Just look at its calm, beauty and perfect reflexion of the landscape!
As we went along the hike trail, I realised that I was really lucky to be here, surrounded by mountains, enjoying amazing landscapes. It's not everyday that we can go for a hike in high mountains, especially when we are paraplegic. When you spend most of your time in a wheelchair that's an incredible experience. One that you won't forget. It is really enjoyable not have to stare at your wheels all the time to avoid any little rock that can stop you! Plus it is nice to be at the same height than the others.
During the hike, I also became aware of all the possibilities that offers a joëlette. With this all-terrain chair I can go hiking with my family and friends in the mountains, Franck doesn't have to worry about "leaving me behind", I do not feel frustration not to share the hike with my friends and they don't have to decide who will stay "behind" with me and go for a walk in the valley while the others go in the heights… So while I usually prefer to be active and to contribute to the effort (a few times, I was a bit frustrated not to be able to help Franck, Aurélien and Hélène), I still greatly appreciated this hike and think this a really interesting possibility for disabled people.
As for carriers, it has been physically demanding. Usually, you only need two people to carry the joëlette. For this hike in particular, despite the electrical assistance, I would say three carriers, as we were, is required to rotate and get some rest. Indeed the pathway become more steep, rocky and challenging after the Oule lake and it will be helpful to have carriers with (very) good physical condition. If you don't feel going through the most difficult part of the trail you can still hike from the Col du Portet to the Oule lake and skip the part between the Oule lake and the Bastan lake. You will still see amazing landscapes and won't be disappointed.
During the hike Franck tested the front carrier position as well as the back one. He thinks that being in the front is more physical but that being behind is more technical as you are the one guiding, handling the breaks and the electrical assistance. Indeed we didn't use the electrical assistance all along the trail because we didn't know its range. On flat ground and on small and gentle slopes it was easy to move forward without it, so we didn't use it. We saved it to help us climb the steep and rocky slopes and we were right to do so. It would have been quite challenging without it… Unless being carried by Sylvester Stallone, Hugh Jackman or Dwayne Johnson!
Where to rent a joëlette?
At the shop
Alex sports
. Address: Route du Pla d'Adet, Vignec. Phone: +335 62 39 47 20.
Cost: 40 or 60 euros a day depending if you choose a classic joëlette or one with electrical assistance. If you can't convey the joëlette in your own car to reach the start of your hike, Alex Sports can convey it for you but they will charge for additional cost.
Going down the Pic du Midi mountain in a "Cimgo" all-terrain wheelchair
Different mountain, different settings. After I discovered it covered by snow in last March, here I am 5 months later, back in the Pic du Midi de Bigorre to live an extraordinary experience. But this time the mountain wears its rocky and greenish coat. The view is still as compelling but also very different: a sea of clouds surrounding the summits makes the place feel almost mystical.
Inside the observatory, we visited the museum where we learnt a lot about the history of the Pic du Midi, its observatory and the scientific projects which were initiated here. We also learnt about space phenomena which are explained by simple or detailed interactive texts.
But like I said before I was about to live an amazing experience. This time Franck and I are not going down taking the cable-car. This time I will go down the Pic du Midi, from the summit to the ski resort, in a Cimgo and Franck will ride a bike. So what is a Cimgo? It is an all-terrain wheelchair guided by a person specifically trained to be able to handle it.
At the observatory we met François Laboissette who will guide me through the mountain. I am a bit afraid of the descent but I know I am in good hands: François is used to assist disabled people with adaptive sports and activities in mountains. He has been doing this since 1993! Aware of my fears, he took some time to make me feel more at ease, explaining the security and breaks systems of the Cimgo. 5 minutes later I was comfortably sitting in the all-terrain wheelchair, ready to hurtle down the impressive slopes of the mountain!
The beginning of the descent is very impressive because the slope is really steep. We overlook the other mountains around us and stare at the void. In spite of everything I feel confident and safe. François is genuinely careful and I can tell he knows what he is doing. In 3 minutes only, my fears were gone. Now I am fully enjoying the experience and admiring the spectacular landscapes surrounding us. During the first meters we move very slowly and carefully, rolling on big rocks. Franck is following us, walking by the side of his bike. The motion was sometime surprising, and while this was a somewhat shaky start, mainly because of the rocks, I had so much fun. At that moment, I feel many emotions. I am happy, proud and very excited. I am fully aware of how unique this is.
After the first 4/5 zigzags the ground becomes less uneven and easier to roll on. The sensations are smoother. As we go forward a small track appears and then a real pathway. We increase our speed and Franck starts to ride his bike. Now the feelings are almost the same that those I experienced when I rode an all-terrain wheelchair in a canyon in Aveyron but the landscapes are very different. We take our time and stop a few times to admire the wild nature surrounding us. We even have the chance to spot three vultures flying just above us during a few minutes. What a show! A few metres downward we also encounter some sheeps and cows.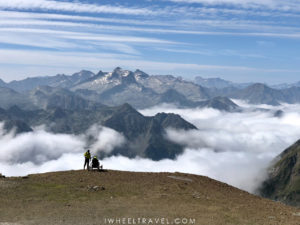 After we reached the famous Col du Tourmalet, we joined up with the road and started the last part of our journey which ends at the Mongie ski resort. We are going down very fast. In a few seconds we're reaching 50km/h and we're rapidly seing the ski resort. It has been already 3 hours since we left the summit but I feel like it was less than an hour ago! I make the most of this last moments, I enjoy the speed and I realise how great was this day!
Where to ride a Cimgo in the Pyrénées?
François Laboissette offers many Cimgo ride options in different places but always in the mountains. The Pic du Midi ride is the most spectacular but there are others which are easier and less intense. You can find all the information on François website Handicap Outdoor Pyrénées (in French). Cost ranges from 25 to 520 euros for a weekend. The Pic du Midi experience costs 250 euros for a passenger and another person coming with them. That includes cable car passes, the guide, the rent of a bike and access to the planetarium.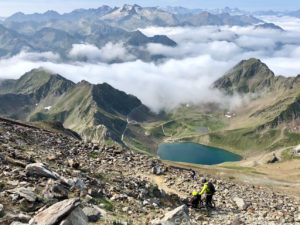 Paragliding above the mountains with a disability
Do you want to try something different? Why don't go try paragliding? It is possible for a reduced mobility person to experience it. All it takes is to book a tandem paragliding flight with an instructor specifically trained for this. It has been a while since I wanted to try this activity so that crazy week in the French Pyrénées was the perfect opportunity to do it! So let's go the the Col d'Azet to take off!
But before that Franck and I have to meet the instructors at Genos-Loudenvielle lake because we will go to the summit with them, in their vehicle. It is not adapted but you can follow them with your own car if necessary. As for us, we climb in this van and left my wheelchair at the lake. This way it will be waiting for me on the landing area.
20 minutes later we arrive at the Col d'Azet. I get out the van and directly sit in the paragliding chair and Thierry, my instructor, straps me. With another instructor they tow me up the hill to the take-off area. Franck is also getting ready. In 5 minutes we are ready to flight but unfortunately we are surrounded by clouds and it is impossible to take-off now. So we wait.
Forty minutes later we finally have an opportunity to take-off. Thierry get the paraglider ready, I put on the helmet and we take-off immediately. Franck also takes-off 10 seconds after us. He is just behind us so we can see each other during the flight which is quite cool!
If I was a bit afraid before the flight, it was gone as soon as we took-off and I immediately enjoyed the smooth sensation. I was so surprised that it is so smooth. It is really enjoyable. We glided in the air while looking at the valley and its beautiful lake. Discovering them in a different way. As I feel confident and safe, Thierry shows me some paragliding moves at the end of the flight. Some motions surprise me and I have a great time. A few minutes later we land. That was so quick… In a few minutes sensations already start to disappear and make me want to do more paragliding. As addictive as chocolate! We stay to speak with Thierry. He explains us how to fold a paragliding wing and tell us about which paragliding school I have to contact if I want to learn to paraglide by myself.
Where to do some adaptive paragliding in the Louron Valley?
You can book a tandem flight with two of the paragliding schools in Loudenvielle: Virevolte and EPVL. I flew with Virevolte and everything went great but EPVL has also an instructor trained to paraglide with disabled people. I met her and she is really nice. A 10 to 15 minutes tandem flight costs 80 euros.
If you're planning to travel to France, want to discover more wonderful regions and awesome accessible activities you can have a look at all my posts about travel destinations in France.
Did you like this post? Feel free to check out my Patreon page to see how you can support the creation of new ones and be a part of iwheeltravel!
And of course, you can share, like and subscribe, to be aware of the lastest posts.
This post has been sponsored by UNAT Occitanie and Hautes-Pyrénées Tourism French Department, as they invited me over. However, opinions expressed here are my own.