Have you ever dreamt of travelling to Italy? Surely. But have you consider to travel in Apulia rather than in Rome, Venice or Florence? Puglia, like Italian call it, is a region located in south-eastern Italy. You know, the one shaped like the heel of the Italian boot. While this area is less known abroad than the rest of this country, it has lot to offer to those who are keen on History or religious architecture, but also for those who prefer lovely beaches and crystal clear water, and of course for foodies! Well, that's definitely sounds like Franck and I! So we didn't hesitate too long before booking our vacation there! If you want to travel in Puglia too, here are our detailed itinerary and budget for this two weeks travel in Italy.
Itinerary: 2 weeks in Apulia
Franck and I love travelling at a slow pace, taking our time trying to get to know and understand as much as possible local culture and its people. So we settled on a two weeks (exactly 17 days) road trip in Puglia and, rather than touring the whole area, we decided to focus on the Province of Bary, the Itria Valley and the Salento.
This way, we were able to relax on some the most beautiful beaches in Italy, to visit many cultural places and stroll in the streets of charming cities historical centres. During this road trip we stayed in 4 different cities: Bari, Monopoli, Lecce and Otranto. From each of these, we also explored the surrounding rural area. Let's have a look at the detailed itinerary in Puglia:
Day 1: Accommodation in Bari
Arrival at Bari in the end of the afternoon. Check-in at the hotel and walk in the historical centre of Bari and then along the port.
Days 2 to 6: Accommodation in Monopoli
Visits of the white cities of Polignano a Mare and Monopoli enhancing the Adriatic coast. Visit of the city of Alberobello, famous for its trulli, houses made of whitewashed rocks with conical shaped roofs. Strolls in the calm and authentic streets of Locorotondo and Cistermino cities historical centres. Laid back mornings at San Vito, Capitolo and Lodo Morelli beaches. Discovery of the coast between Polignano a Mare and Lecce.
Days 7 to 11: Accommodation in Lecce
Admiring the baroque art and culture in Lecce. Visit of the Puglia inland: Galatina and Nardo cities, olive trees and cactus everywhere. Sunbathing and swimming time at Torre Guaceto, Torre dell' Orso and Torre San' Andrea beaches. Discovery of Roca Vecchia and the grotta de la poesia. Visit of the coastal city of Gallipoli, its historical centre and its harbour.
Days 12 to 15: Accommodation in Otranto
Visit of Otranto city. Walk in the surprising red-coloured quarry "Bauxite della Cava" where we could imagine we were walking on Mars. Road trip along the south coast of Puglia, driving along the "SP 358" to Santa Maria di Leuca. This scenic road is stunning! On our way we visited Porto Badisco and Castro. We also enjoyed a boat tour along the coast between Castro and Santa Cesarea Terme (not accessible for wheelchair bound users).
Day 16: Accommodation in Bari
Drive back to Bari but not before taking the time to enjoy the Adriatic coast one last time, spending the morning at Otranto beach.
Visit of Bari's picturesque old centre streets. Flight back to France.
This itinerary includes many road trips. While it takes more time, I highly recommend that you drive through small roads inland and along the coast. These roads are charming and beautiful, compared to the motorways framed by thrash (people throwing them outside their cars!).
Franck and I are slow travellers and we take some time to take photos. But if you're a faster traveller or don't have 17 days you can do this same itinerary cutting off 2 or 3 days.
Travel budget for 2 weeks in Puglia
For this travel in Puglia in Italia, for two people with flights return from Paris, we spent 2496 euros, meaning 73 euros per day per person. Let's have a closer look at this budget. As usual, the accommodation is the most important budget (40%), followed by transports (37%), food (20%) and activities.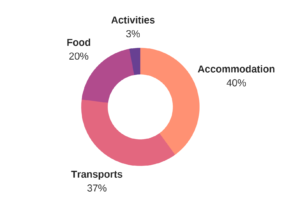 We stayed in confortable accommodations but not luxury ones. The average price of a night for 2 was about 60 euros, knowing that we benefit from a free night due to fidelity program. In Bari and Monopoli we stayed in studios whereas in Lecce and Otranto we stayed in a masseria and an agriturismo, kind of farm stay accommodations. We didn't spend time with animals or discovering the farms but we were sleeping in farm lands, hosted by families which produce some agricultural products (olive oil, vegetables). Also in these accommodations we indulged ourselves tasting local food during breakfasts.
This transports budget includes flights return from Paris to Bari (Air France – 357 euros for 2 people), the car rental (394 euros for 15 days), return trip Bari airport-Bari centre (10 euros per person), car fuel and some parking fees.
Advice: Do not rent a car at a rental car agency at the airport. Rent it in an agency in Bari. It will be less expensive. There is a big price difference. We paid 357 euros for 15 days renting the car in a Hertz agency in Bari whereas we would have pay between 600 and 650 euros in the same agency at the airport.
With 15 euros per person per day, we usually ate half of the time groceries from the supermarket in our accommodation and the other half we ate outside, in town. Our supermarket meals were really good even if simple. We bought local food: tomatoes, mozzarrella buffalla, burrata, fresh pasta (orecchiette are the typical pasta from Puglia), wine from Puglia (Primitivo,Negroamaro and Nero di Troia) and tarallini, perfect savoury treats for wine-o-clock!
In town, we ate 8 meals in restaurants and the rest of the time we ate one takeaway pizza for 2 (from pizzerias), local sandwiches from caterers or small restaurants. Apulia is the "bread region". Stuffed, grilled or just plain, you will find there many kind of bread or bread based meal. They are all yummy, it would be a shame not to taste them! Foccacia, puccia, panzerrotti: you just need to make your choice! Also, of course, we couldn't resist to indulge ourselves with some ice creams and local pastries! Pasticiotto is so yummy, you have to try it! It is shortcrust pastry (baked with a bit of almonds) filled with pastry cream.
These 3% include a boat trip (not wheelchair accessible) along the coast between Castro and Santa Cesarea Terme and access fees to private beaches (wheelchair accessible).
I hope this article will be useful and will help you schedule your next travel in Puglia. If you also want to discover the architectural and historical treasures of this Italian region you can also read My wheelchair travel in Apulia, Italy: Terra di Bari and Itria Valley and discover the most beautiful and accessible Aupilan beaches.
Bon voyage!
Did you like this post? Feel free to check out my Patreon page to see how you can support the creation of new ones and be a part of iwheeltravel!
And of course, you can share, like and subscribe, to be aware of the lastest posts.