Ghent: visiting the hidden gem of Belgium in a wheelchair
Ghent, gentle and charming
The city of Ghent is also known as the "Europe's best kept secret". That's so true! Even if it is a good destination for a city trip in Europe, Ghent still stay hidden behind the shadow of the Belgium capitale Brussels. Most of tourists don't take the time to do a few more kilometres to discover this lovely city. What a shame!
As for me, as soon as I arrived I was charmed by the architecture heritage of Ghent. In every street around the town center we can see buildings from the Middle Ages or Renaissance. The mix of these different styles and the colourful frontages make the city looks so picturesque! It is really nice to stroll in there! By the way, don't miss St Bavo's Cathedral, Saint Nicolas' church and the belfry, three of the highest towers in the city. A few metres away, you can also admire the Gravensteen castle.
The other attractive feature of Ghent its the canals. Wherever you are, you are always close to a canal crossed by many bridges and framed by lovely old facades. Plus, to make your walk a perfect time, there are many really good musicians playing classical music or more contemporary songs all along the canals. For those who want to see the city from a different point of view you can also enjoy a boat tour.
If you like urban arts, to finish your stroll, you can head to Werregarebstraat street which is fully covered by graffitis. And perhaps you will be lucky enough to bump into an artist and be able to observe him practising its art.
Last but not least, Ghent is definitely a Belgium city. You will find there every Belgium specialty you would like to taste. You can drink beers on a patio while looking at the boats on the canals, eat some fries at the same time or indulged yourself with some Belgium chocolates or waffles. Hard choice to make!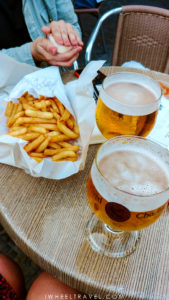 If you want to taste some culinary specialties from Ghent you can order a waterzooi, a generous stew dish made with vegetables and chicken or fish. As for the sweet tooth, you should be happy with Cuberdons. These are very sweet candies (too much for me!). The original flavour is raspberry but there are many others.
Accessibility in Ghent:
How to go to Ghent?

By Plane or Thalys train to Brussels. Living in Nantes, I took a Brussels Airlines plane directly to Brussels. By the way, thank you so much to the Nantes airport assistance team as they have been great. They managed to assist me and lead me to my new flight on time (the original one has been cancelled) while it was leaving earlier than the one I was supposed to take. From Paris, taking a Thalys train to Brussels is a simpler solution.
Then, by train from Brussels to Ghent with the SNCB (the Belgium train company).
How to get around in Ghent?

On foot or on wheelchair: most of the time there are curb-cuts on sidewalks. Almost every street of the city centre are made of cobblestones. They are mainly flat so it is manageable even if it is shaky. However some streets do have bigger cobblestones so it will be difficult to roll through those. The light car traffic in the town center makes it easier to roll around.
Public transport: buses and trams are wheelchair accessible. I took the bus once and everything went fine.
Wheelchair accessible taxis: the taxi company Hendriks is specialised in disabled people transportation. I used their services twice and everything went great. Here are their phone number and email address: 0032 2 752.98.00 et info.melsbroek@hendriks.be .
Restrooms: Good news! You can stroll without worrying about restrooms. Indeed it is easy to find wheelchair accessible toilets in Ghent city center. For example, there is one just near the "Belfort stadscafe" restaurant and another one in the fietsenparking car park, just below Sint-Michielsbrug bridge.
Where to eat? There are steps to enter the most of the shops in Ghent. Unfortunately it is the same for restaurants and I didn't succeed to find any accessible fries stand but here are some wheelchair friendly restaurants:

Holy Food Market : Beverhoutplein 15. In this food market you can eat many different food: indian, japanese, italian, portuguese… You name it! This place is amazing: an old baroque chapel. There is a ramp to enter the building but it is very steep so it is difficult for a manual wheelchair user. Right after the entrance you will find a lift on your left to get to the upper floor.
"Belfort stadscafe" restaurant: 40 Emile Braunplein street. The restaurant is accessible so are their restrooms. However it might be difficult for large wheelchairs to fit near the toilets and transfer from side to side as there is the washbasin on the way. As for food, I tasted a chicken waterzoi, and it was good but their french fries were really bad.
"Ve o Versbar" restaurant: in Heilige geestraatstreet. This wheelchair accessible restaurant offers fresh organic food.
If you're strolling in the city center you will see some food trucks. A perfect occasion to take a break and enjoy an ice cream, a sweet delight or even savoury snacks.
Where to sleep? I stayed in NH Ghent Belfort hotel located in the town centre. The wheelchair accessible room is spacious and the bathroom is well equipped. This is a communicating room so earplugs can be useful in case of noisy neighbour. It is difficult to open and close curtains while in a wheelchair because there is a table in the way. The breakfast room is accessible (the breakfast is amazing!). The hotel entrance is a revolving door. I had no issue passing through it with my wheelchair but maybe it can be tricky with wider wheelchairs. On that case you can still use the sides doors. They need to be opened from the inside so you will need to ask for help or to call the reception.
This post has been sponsored by Visit Flanders, as they invited me over. However, opinions expressed here are my own.
Did you like this post? Feel free to check out my Patreon page to see how you can support the creation of new ones and be a part of iwheeltravel!
And of course, you can share, like and subscribe, to be aware of the lastest posts.