Maybe you remember that last April I attended my first travel bloggers convention in Aveyron in France. Besides discovering a very beautiful region, I also met a lot of people working in the tourism industry including Pascale and Claire from Visit Flanders, the official website for tourism information about the Flanders region in Belgium. A few weeks later, Claire reached out to me and invited me to discover the city of Ghent in an original way: by participating to a race called Pop in the City.
I have never been in Belgium before and I never took part in an urban trail so I was glad to accept this offer! Plus, that was the perfect occasion to meet again with Daphnée, another French wheelchair blogger, with who I was about to share this experience as a team.
Pop in the City: discovering the city beyond the tourist sites
Less than a month after Claire contacted me, I was in Belgium. It might surprise you, but it was my first time in this country. Even if it is so close to France. The weekend was quite short but intense. Especially Saturday as that was the Pop in the City day. From 9am to 5pm, we were more than 250 female duos running (or rolling!) through the city and enjoying this urban adventure race for women which takes place in a different european city each time. But, before the start, it's warm-up time: let's move all together on motivational music!
Now it's time to think! The race goal is to pass the finish line before 5pm and to achieve as many challenges as possible. But first, to undertake challenges we have to find their locations by solving riddles. And only when we will reach those destinations we will discover the challenges! So here we are, studying our maps and trying to figure out those enigmas. Looking like detectives!
After a few minutes, some teams begin to head toward their first challenge. The 30 challenges have been split into 5 categories: extreme, art, culture, solidarity and sport. Each team has been assigned one category to begin with, but after that we are free to do the challenges in any order that suits us. The only rule is to achieve one challenge in each category before starting another set. For example, we can't do a second "extreme" challenge until we've succeed one challenge in each of the four other categories first.
As for Daphnée and I, we had to start by a "culture" challenge. Once we got to the place, we discovered a funny challenge in an uncommon place. We were in an old abbey which today shelters a hotel. Our mission? To iron brioches to cook Les Mastelles de Gand! This culinary specialty is made with cinnamon brioches filled with butter and brown sugar cooked with an iron! That's so yummy!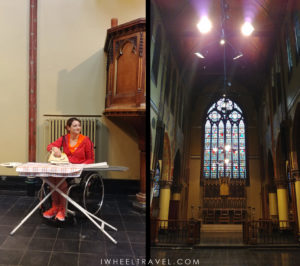 They were still many surprises to come! All day long we discovered very different challenges: making chocolate treats, learning to mix music like a DJ, creating a stiching design inspired by new-yorker dishes, learning to play piano (well, I definitely need to improve my skills!), writing and recite haiku poems… Daphnée even had a lot of fun while ziplining from the 6th floor of a building! As for me, I prefered to watch her from the ground!
There were many other challenges that we didn't test and seemed to be really cool: learning to dance salsa, playing quidditch like Harry Potter, painting graffitis on city walls, making Gin, customizing our race t-shirt during a silkscreen printing session, bottling beers, juggling with fire balls, crossing the highest floor of a mall on a slackline…
I liked that the solidarity challenges raised awareness among different handicaps. I was pleasantly surprised when I discovered that our second challenge involved playing wheelchair basketball! During this activity everybody was in a wheelchair and could have a glimpse of what is like to be a wheelchair user. Two other challenges were about autism: by writing haikus about this condition and, through the use of different devices, by experiencing how is it to have autism.
Enjoying an urban adventure race in a wheelchair, possible?
Now that I told you about our day I'm sure that you're wondering how we managed that race being in wheelchairs. Well, that was not always easy. We had some rough moments.
In order to help us to figure out which challenges were wheelchair accessible or not, those who weren't were indicated so on our logbook. Among 30 challenges, 12 were not possible for wheelchair users. So, to make things easier for Daphnée and I, we were allowed to do two "sport" challenges one after the other because they were the only two possible for us and, unfortunately, they were close to each others but far away from the town centre. That way we didn't have to walk one hour return and then go back at the same place to do the second sport challenge.
However, despite this kindness and the "inaccessible for wheelchairs users" symbol, we had to face a frustrating and demotivating moment a few minutes later. It took us 30 minutes to roll from the town centre to this area to do three challenges and only one was accessible for us. When we reached the third challenge and discovered a velodrome we were quite surprised. I thought: "Ok, let's not jump to conclusions. They surely have handbikes". They haven't. At this specific moment we started to feel tired and I must admit that we didn't know if that was a funny or desperate situation!
So it's true: this Pop in the City experience was not perfect and the Pop in team still have progress to make regarding accessibility but they seem really keen on making things better. Also, for the record, Daphnée and I were the first wheelchair users to be part of this adventure and this was decided only three weeks before the event. Consequently, all was already in place and things were not planned to be wheelchair friendly.
In spite of everything, I have a good memory of this day. I really like the concept of this event and I enjoyed discovering the city in a different way. The vibe was really good: everybody was joyful and helpful. During all the day, we ran into other teams and they often offered to help by telling us which of the challenges they've done were really accessible or not. Plus, they were always ready to give a hand and to push us if necessary.
Also the Pop in team was great. Daphnée use a manual wheelchair with electric propulsion add-on system but unfortunately the battery shut down one hour before the end of the race due to the long distance we've rolled. Clémentine (co-founder of Pop in the City) bumped into us and didn't hesitate one second to join us for the last hour, pushing Daphnée, to allow us to continue the experience and reach the finish line.
If you want to visit this beautiful city you can also read my post to know what to do in Ghent, especially if you're a wheelchair user.
Did you like this post? Feel free to check out my Patreon page to see how you can support the creation of new ones and be a part of iwheeltravel!
And of course, you can share, like and subscribe, to be aware of the lastest posts.
This post has been sponsored by Visit Flanders and Pop in the City, as they invited me over. However, opinions expressed here are my own.