Travelling in the Gili islands with (or without) a motor disability : good or bad idea?
August 26th 2017: It has been already three weeks since we arrived in Indonesia! We really enjoyed discovering Sulawesi but now it's time to head to the Gili islands, three smalls islands off the coast of Lombok island. Between these three different islands we chose Gili Air because it is known to be more authentic and less crowded than Gili Trawangan but also more lively than Gili Meno. I was eager to lounge on white sand beaches and to bath in cristal clear waters! But unfortunately everything was not so idyllic. We were aware these islands are very touristic but we did not expect that much! It was the only place where we felt overwhelmed by mass tourism during our three months and a half road trip in Asia. Still, Gili air is really beautiful and it is easy to understand why it attracts so many tourists.
Gili islands, white sand beaches and cristal clear waters
The Gilis are three small islands offering white sand beaches surrounding by blue and sparkling shades lagoons. That sounds like a good place to chill and bath in the sun! As soon as you see photos of those sandbanks you can picture yourselves wrapped in a sarong and sipping out of a coconut! So if I tell you, on top of that, that we can have a glimpse at mounts Agung and Rinjani volcanoes while bathing, I'm pretty sure that you're struggling not to open a new tab to look for cheap plane tickets!
What are the best beaches in Gili Air?
Once there, it took us a little while to find a beach to lay our towel and go out for a swim between two book chapters. Not so easy as it seems, considering it is a small island. Indeed, beaches around are usually very narrow and surrounded by corals. To go swimming, I would recommend going to the south-east beach of the island, directly across the Scallywags Beach Club. It is easily accessible, without corals.
If you are looking for a quieter place I would advice you to go in the north of the island. However there are many corals so you won't be able to swim there. Still you can relax sitting in the sea which is really enjoyable. I have done so and I was happy to bath in the middle of small silver fishes. I even saw some starfishes less than a meter away from me! And all of that while admiring mount Agung, Bali's famous volcano.
Gili islands, a snorkeling paradise?
Gili islands are also known as a perfect place to snorkel between colourful fishes, corals and even turtles. So is it such a bliss? Are Gili islands the snorkeling dream destination?
Well, there is no doubt that this is a very beautiful place! We saw a lot of colourful fishes (not as many as in Malaysia!) and we saw turtles! That is such a wonderful memory! Glazing at a turtle when it is swimming up to the surface to get some air is a magic moment! One of those which brings you back your blithesome children days…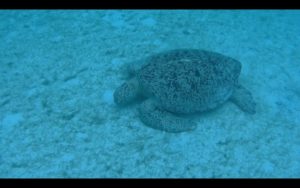 Despite this magic moment, I have to admit that the snorkeling wasn't perfect all the time as the sea was quite rough sometimes and a bit blurred. Plus, many corals were damaged and even dead. Unfortunate consequence of mass tourism…
Mass tourism impacts in Gili islands
Security issues during a snorkeling trip
Unfortunately the damaged corals are not the only witness of mass tourism and we had a bad experience during a snorkeling trip. The thing is, to enjoy the best snorkeling spots in the Gili islands, it is necessary to go on a boat trip for a few hours. It can be a private boat or a public boat with others tourists. As for us, we decided to go on a public boat trip because it was cheaper. It was an instant regret: clearly, security was the least important thing for our "captain". While some first timers were asking for instructions on how to use life jackets and snorkeling gears, he denied giving any explanation nor training. At one point, one woman was feeling so stressed that she started to panic. So I ask the driver to help her but, again, he refused. Plus, unlike what we experienced in Malaysia while snorkeling, our driver never tried to stay close to us while we were in the water. And last but not least, at the third stop, while most people were already in the water, a huge wave hit us, quickly followed by two other really big ones. Seeing those waves coming, and being scared (like us!) the captain decided to move away instead of helping people. He just yelled at them, ordering them to swim back. Easy to say!
Anyway, despite all the Gili islands treasures, I would advice you to go to The Perhentian or Tioman islands in Malaysia or to Lembongan island near Bali, if you want to snorkel in south-east Asia. These islands are marvellous too, corals there are well preserved and there are even more colourful fishes! Plus, I didn't face any security issue there.
An unpleasant boat crossing to get to Gili Air
Unfortunately, even before reaching the Gili islands we already had to argue with the crew of the boat to board. Indeed he didn't want Franck to help me boarding and insisted that he should board alone first. Because I was not fast enough! Of course Franck refused and while he was helping me to reach the boat, walking on the beach, this man carried my wheelchair into the boat and then came back to us asking fees for this "assistance". Well, that got on my nerves! It was the perfect opportunity to practice the few Bahasa Indonesia (Indonesian langage) I learnt in Sulawesi so I had a lot of fun answering him that he has to stop to make a fool of us! Surprised, he stopped insisting for money.
Accessibility in Gili Air :
From/to Lombok airport, you have to take a taxi to "Teluk Kade" ferry terminal. The blue-bird taxis company is a good one with fair prices. Unfortunately they are not wheelchair accessible. Once you reached the terminal you have to cross by boat. Neither the terminal nor the boats are wheelchair accessible. Indeed, there are stairs before reaching the jetty or the beach depending where you are boarding. In Gili Air this is the same, smaller boats land on the beach and bigger ones come alongside the jetty. Last detail: there are no accessible restrooms in the ferry terminals.
From/To Sanur in Bali: To get to the Gili islands from Sanur you can go to Sanur and then cross by boat. We have done this crossing the other way, Gili Air-Sanur, with the boat company Semaya. In Gili island I could stayed in my wheelchair until the boat door as it was parked in the jetty but I had to handle a few steps to get into the boat. Once in Sanur all the passengers were supposed to get out the boat by walking on a 20 cm wide ledge. Since it was impossible for me, the staff opened a door next to the jetty. But this door was way below the concrete dock floor, so they dragged me! Once more, like often in south-east Asia, when there is a lack of accessibility, you can alway count on human kindness to figure out the situation!
Hotels: During our travel in Gili Air we didn't stay in an accessible accommodation because the only hotel which could suit a person with a motor disability was already fully booked. This accommodation is Oceans5 Dive Resort. Here is the information the staff sent me: "We have several different types of bungalows but the standard room will be the most suitable for a wheelchair user. It is not especially designed for wheelchair users but it is possible to rearrange it. The bedroom has a queen size bed, air conditioning, hot water, in-room safe. It costs 600.000IDR during low season and 675.000IDR during high season including breakfast. There is a small step to access the bedroom but we can install a ramp. Regarding the bathroom, there is a tiny step which should be manageable. Otherwise, I would like to let you know that we are a dive center certified to teach to disabled divers and that we have the necessary equipments. We already greeted wheelchair users in our hotel. Also, we can provide you a wheelchair if you need. "
Moving around the island: Motorised vehicles are forbidden on Gili islands so there are two solutions : walking or paying for horse-drawn carriage drives. These are not wheelchair accessible. Rolling around Gili Air you will discover that some paths are in better condition than others. Some are really damaged so this is difficult to handle without help. Others, including those along the coast, are better maintained but are still too sandy in some parts.
Snorkeling: To enjoy the best snorkeling spots in Gili islands you will have to go on a snorkeling trip. A public or private boat will bring you to 4/5 different spots. So that means that it is necessary to get in and out the boat in the middle of the sea. If you want more details about how it works you can read my post about Tioman.
Where to eat in Gili Air? Most of the shops and restaurants have steps to enter in but I found a small (and a bit hidden) restaurant with no step and where you can eat yummy savoury or sweet martabaks: Tenda Biru restaurant. You can look where it is on Google Maps here.
If you want more information about travelling in this country you can read about all our travel destinations in Indonesia and their wheelchair accessibility. We also share with you the detailed budget of our travel.
Did you like this post? Feel free to check out my Patreon page to see how you can support the creation of new ones and be a part of iwheeltravel!
And of course, you can share, like and subscribe, to be aware of the lastest posts.