Borobudur, Prambanan and Merapi : Java's temples and volcanoes in a wheelchair
After 3 weeks in Sulawesi and 15 days in Bali, we finally arrived in Java, last island of our journey in Indonesia. To make this part of our trip easier, we decided to stay at a hotel in Yogyakarta and to visit the surroundings from there rather than changing accommodation almost everyday. From Yogyakarta, there are many places to visit on a full-day or half-day trip.
So we decided to book a full-day tour to visit Borobudur and Prambanan temples, and also to explore Merapi volcano. We booked this tour directly at our hotel. We paid 600000 IDR (36 euros) for a day for 3 adults including the car rental, the driver and a meal. In addition to that we had to pay the entrance fees for the different sites and the parking fees: 1 277 200 IDR (77euros). In the end, this day costs us 37 euros per person which is quite expensive for a day of vacation in Indonesia but it's really worth it!
Regarding accessibility, the car wasn't designed for wheelchair users so I had to transfert from my wheelchair to the car.
Amazement at Borobudur
5 am. We are already meeting our driver at the hotel reception. We chose not to go to Borobudur at sunrise because it is too expensive but still we want to arrive there early (at 6 am for the opening) to avoid the crowd. Indeed Borobudur is the one the most visited temples in Asia and we really understood why!
Borobudur is gorgeous. The place is incredibly beautiful and also surprising. The morning sunrays enlighten the place. The surrounding jungle makes it as if this place could be magical. Well, who knows! We don't know everything about its history. Built in the 9th century, the temple has been abandoned in the years 1100 and everybody forgot about it. It was only during the 19th century that it was discover again. Quite difficult to imagine how a such colossal monument can disappear in the middle of the jungle !
The temple is really impressive. From its base we can't even see the top of it! Throughout our ascent to the top we can see many Buddhas. We are surrounded by them. The wise man appears everywhere: on the walls and inside the famous bells (stupas) of Borobudur. It seems that there are 504 Buddha images around the temple!
While Borobudur impresses by its hugeness, I am surprised to discover detailed carvings on the temple walls while strolling in corridors. On them we can see daily life scenes with men, women, animals and religious figures. Some of the carvings represent buddhist teachings.
Accessibility:
Borobudur is partially wheelchair accessible.
Ticket office: There are steps at the ticket office main entrance but if you are going to the right you will find another entrance which is wheelchair accessible. If needed, there are courtesy wheelchairs.
Wheelchair users can go to the base of the temple. The last ramp (the big one) is steep and very long so another person will have to push you. This ramp is sometimes close by a gate. You can ask the staff to open it.
Once you have reached the base, the ground becomes a bit sandy and maybe a bit tricky at some point. With a small push everything goes well. From there you can't go further in a wheelchair. To reach the summit of Borobudur it is necessary to climb many really big steps, some as high as our knees! Despite that I succeeded to climb to the summit with the help of my sister and Franck but it was very challenging. Otherwise, the view from the base is still good, even if we can't see the stupas from there.
Rather than paying an exorbitant price to be allowed to enter the site at sunrise, some tourists choose to admire it from pethuk Setumbu hill which fees are less expensive. Unfortunately, it is not wheelchair accessible as it takes about 20 minutes climbing stairs to get to the top of the hill.
Prambanan temples in a wheelchair
Like Borobudur, Prambanan is a temple compound built in the 9th century but, unlike Borobudur,
Prambanan is a Hindu temple.
However, we can see some Buddhist pieces. Rocks are carved with delicacy and this art can be compared to
Balinese arts depecting many divinities
.
Many times during history Prambanan temples were damaged due to earthquakes. Unfortunately, it happened again during the 2006 earthquake. While most of the site was renovated, we still see a lot of rocks on the ground. We can even notice more similar damages in the Sewu temple, 800 metres away from Prambanan main temple. Don't miss this temple which is really beautiful even if it looks a bit like a ruin. That is maybe why it feels almost mystical. Or maybe it is because there are almost no people and the place is very quiet.
Accessibility:
Prambanan main entrance leads to many steep steps so it is impossible to pass trough them with a wheelchair. When I visited Prambanan in September 2017 there was an accessible pathway in the back of the temple. It was an emergency path for repairs after the 2006 earthquake but unfortunately the gate of this pathway is now closed and will probably not be reopened. That is such a shame. I really hope the managers of the place will agree to reopen it or find another solution.
It is possible to ask permission to get into the park using accessible vehicles in order to get around and to reach Sewu temple.
There are disabled restrooms in Prambanan park. Those are wide enough to get in with a wheelchair but they don't fully match European and ADA law. For example, handrails are too far away from the toilet.
Sewu temple is not wheelchair accessible. There are steps to enter.
Merapi Lava tour
We took our time dicovering Borobudur and Prambanan and it's already afternoon. It's time to go back on the road and drive to Merapi volcano, the "Fire Mountain". Such a perfect name for this volcano. Indeed it is the most active and dangerous Indonesian volcano. During the last 60 years it has erupted about 50 times according to wikipedia.
But you know me: that will not stop me from going up there! Let's go! Wait… Before we have to stop at the bottom of this giant master of fire to book the Jeep tour. That is the easy part. Now I have to climb in the Jeep (time to exercise!) and all of us have to put on masks on our mouths and noses to prevent our lungs from a sandy invasion. Here we are ready to go on an adventure looking like Indiana Jones and his fellows, but with a slight touch of Japanese fashion!
We begin to ascent the mountain and soon we arrive to our first stop: a museum dedicated to the 2010 eruption which killed 353 people. This museum is not a vast building gathering beautiful items. Not at all. The museum takes place in one of the very rare house which was not completely destroyed by the eruption. The museum shelters many daily life objects that stayed in the same shape since the earthquake. Most of them are burned, melted, or covered by ashes. On the walls there are pictures of the mountain and village before and after the earthquake. A simple place, but enough to make us realise (or at least imagine) the danger of this beautiful mountain.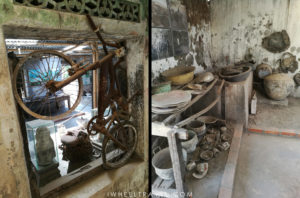 After that, the tour was quite brief and not so interesting except for the two really good view points on Merapi volcano. Clearly that was the perfect opportunity to take pictures of the impressive volcano reaching 2930 metres and to immortalise our Jeep adventures!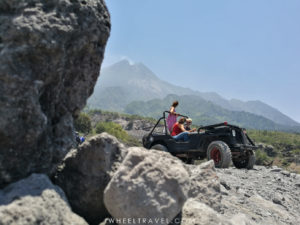 Accessibility:
Of course the main obstacle is to succeed to get in the Jeep because this car is really high.
The drive is really shaky.
During the stops, it would very difficult to roll around in an usual wheelchair because of the rocky and sandy soil. Plus, bringing a wheelchair in a Jeep seems difficult.