How much does it cost to travel in Indonesia?
About a year ago, Franck and I were back to France after one year in New Zealand and a few months in south east-Asia. During this journey we chose to spend almost two months in Indonesia to have enough time to discover many facets of this multicultural country and to enjoy its magnificent landscapes. Heavenly beaches, lush jungles, majestic volcanoes, impressive religious monuments, emotional meetings… This travel was memorable!
Indonesia is a really big country made of thousands of islands so it was impossible to travel through all the country, even if we stayed almost two months. So we decided to visit Sulawesi, Bali, Java and the Gili islands. We stayed 17 days in Sulawesi, 6 days in Gili Air, 13 days in Bali and 14 days in Java. An amazing trip! I'm pretty sure it gives you some ideas! But surely you want to know what budget is necessary for this kind of travel. Travelling in Indonesia during 50 days cost the two of us 3433 euros, that is to say 34 euros per day per person. This do not include the flights in and out the country.
Detailed budget of our travel in Indonesia
Let's have a closer look to this budget. Like most of the time, accommodations were the most important expense: 39%. The rest of the budget was divided into 24% of food, 18% of transports, 12% of visits and activities and 7% of miscellaneous.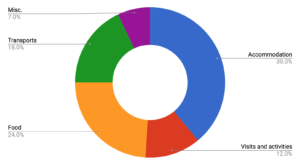 With this budget we really enjoyed Indonesia and didn't have to keep an eye on your expenses. Here are some details about each kind of expenses to give you a more precise idea about how comfy you can travel with this budget:
Most of the time we stayed in mid-ranged accommodations. We avoided luxury resorts and others kinds of accommodations which were too expensive for us but still we wanted to be at ease, to have our own bathroom and bedroom. Only two of the accommodations we stayed in had swimming pools.
My close ones and my regular readers already know that I am a foodie always looking for a local culinary specialty to discover. Well if you're like me I have good news: food is really cheap in Indonesia. You will be able to indulge yourselves! For a few euros you can buy a simple dish in a warung or eat at a food market and with about 30 euros you can enjoy a luxurious meal right in front of sea, your feet in the sand! During our trip we ate in warungs and at food markets most of the time and sometimes we enjoyed a real restaurant. Also we didn't resist to some beers, cocktails and ice creams of course!
During our trip in Indonesia we travelled in boats to go from the Gili island to Bali, from Bali to Nusa Lembongan (and return) and from Bali to Java. We also had some rides in taxis, Grabs (Uber Asian equivalent) and took buses and trains for the longest journeys.
Additional information for disabled people: boats and trains are not wheelchair accessible. It is needed to be able to walk a bit and climb some steps.
Our visits and activities budget include temples entrance fees, some guided tour with car rental (in Sulawesi and in Java), caves entrance fees, Ubud Monkey Forest visit, massages, snorkeling in Gili island and Nusa Lembongan, Balinese dances shows and 2 scuba dive sessions.
The remaining budget covers some souvenirs and gifts, prepaid sim cards, laundries, toilets fees, personal care products (including sun cream and mosquito repellents).
That's it! Now you know how much it costs to travel in Indonesia! I hope this post will be useful and will help you to organise your trip. If you want more information about travelling in this country you can read about all our travel destinations in Indonesia and their wheelchair accessibility.
Nice travels!
Did you like this post? Feel free to check out my Patreon page to see how you can support the creation of new ones and be a part of iwheeltravel!
And of course, you can share, like and subscribe, to be aware of the lastest posts.