The Pic du Midi, a breathtaking and wheelchair accessible sight
It has already been 6 months since we got back to France. Nonetheless, wanderlust has not left us, on the contrary. As weeks go by, the urge to buy an airplane ticket is getting stronger! But this time, we stayed reasonable…. almost! When my sister Anaïs texted me, we decided on a whim, to go and see her in her in Pau, the city she moved in a few months ago. After all there is no need to cross the world to discover amazing sites. Plus, we never visited the Pyrénées mountains so that was the perfect opportunity to do it. So here we are: back on the road again!
Rolling above the drop at the summit of the mountain!
From Pau it's only a one hour and a half drive to reach the Mongie ski resort from where we can take car cables to go to the summit. We were all so excited to go there! I always feel the same when I am going on the mountains during winter: I am fascinated by these landscapes, so wild and peaceful at the same time. For my sister it is the first time going up high in the mountains during winter. I can see sparks in her eyes! Those moments are magic… I am very happy to share this special one with my sister.
As we go up in the mountains with the cable car, we discover new a whole new scenery. Chalets, ski runs and conifers disappear to reveal a rockier and more impressive landscape. Near to me a woman has fear of height and I start to ask myself if I will not be a bit afraid once we will be at the top, on the outside area.
In the end, once we reached the summit, my fear fades and it's only amazement. We are surrounded by mountains and summits. The panorama is stunning. Today there is no cloud in the sky so we have a great view on the Pyrénées. At 2877 metres high we feel like we are on the top of the world! And, despite many tourist here, I find this place calm and peaceful. Surely, the impressive mountains and warm sunbeams are making me feel this way. However I still have a moment of hesitation before starting to roll on "the ponton in the sky" and especially before going on the glass floor at the end of it. At first, I felt weird for few seconds. After that I was really happy to be there, to enjoy the view and the experience. It's not everyday that I can roll above the mountain drop!
Strolling at the lake Payolle
After that, we decide to go for a walk at the Payolle lake. This place looks like a postcard. The scenery is so beautiful and lovely: mountains appear just behind the lake and reflect on it. The perfect place to take great photos. See for yourself!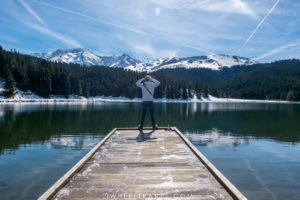 This place is perfect for a stroll as there is a pathway all around the lake. During this walk we can enjoy both the view and the sun… and the snow! Indeed it has snowed the day before so the floor is covered by melted snow. It was a really good idea to put on waterproof shoes otherwise our feet would have been completely soaked! But sunny days are coming soon, so it won't be a problem anymore. During summer season it is even possible to rent a pony for 10 euros to go around the lake. I can bet some children will be very happy!
Regarding accessibility everything is fine. The pathway is flat so there is no difficulty except after heavy snow falls. The deck is wheelchair accessible and there is a disabled parking space just near it. There is only one restroom which is wheelchair friendly.
Information and advice to visit the Pic du Midi :
Don't forget to wear warm clothes, sunglasses and sun cream if you want to enjoy the visit without discomfort.
Have a look at the weather forecast and at the webcam on the Pic du Midi website. It would be a shame to go up there and to not be able to enjoy the view because of clouds.
You can check the roads condition on the InfoRoute65 website.
The planetarium is closed at the moment.
Accessibility at the Pic du Midi :
You will find a lot of information regarding accessibility in the Pic du Midi website (http://picdumidi.com/en/discover-the-pic-du-midi/access-for-all-at-2877-metres) but I can already share some of them to you:
The shuttle going from Lourdes to La Mongie is wheelchair accessible. It costs 2 euros and booking is required at least one day in advance. You can call +33 800 65 65 00 during the week and +335 62 95 50 71 during weekends. The website doesn't say if shuttles can take more than one wheelchair passenger at the time.
There are disabled parkings spaces at the ski resort, just near the ticket office.
Il y a un stationnement et un accès PMR derrière le télépherique. L'accès à ce parking n'est pas très évident à trouver car il faut prendre un sens interdit. L'entrée se fait par la rue Pierre Lamy de la Chapelle.
There are disabled parking space and access behind the cable car. It is not easy to find this parking because it is needed to drive through a no-way street named "rue Pierre Lamy de la Chapelle".
The cable car is wheelchair accessible. The access is very easy as the floor is flat and doors are wide enough.
At the summit everything is wheelchair accessible except a small upper ground which only accessible by stairs. But honestly there is no need to be on it to enjoy the view.
There are accessible restrooms at the ski resort near the ticket office and at the Pic du Midi summit inside. The outside restrooms are not accessible.
After going down with the cable car there is a gap to join the exit pathway. This gap may be too high and wide to manage it in a wheelchair (especially in an electric wheelchair) so I would advice you to ask to go back by the entrance which is just near.
Hotel rooms at the observatory are not wheechair accessible. There are stairs to reach them.
The Pic du Midi costs 33 euros for disabled people instead of 38 euros.
If you're planning to travel to France, want to discover more wonderful regions and awesome accessible activities you can have a look at all my posts about travel destinations in France.
Did you like this post? Feel free to check out my Patreon page to see how you can support the creation of new ones and be a part of iwheeltravel!
And of course, you can share, like and subscribe, to be aware of the lastest posts.