One day to visit temples in the south of Bali, Indonesia
When we arrived in Bali we discovered a new culture and a different feel. It is very different from the other Indonesian islands we visited. There is a reason to this: whereas most people in Indonesia are Muslim, in Bali people are Hindu. Hinduism is everywhere: in the men and women clothes, in the beautiful small offerings, in the statues of the divinities, in the bell jingling and, of course, in the many Hindu temples. There are so many of them that you just cannot visit them all, you have to make a choice when you visit Bali. To start our Balinese journey we chose to go to Tanah Lot temple and Uluwatu temple in the south of Bali. We will visit other temples in the west of Bali later.
Tanah Lot temple
Tanah Lot, located on a tiny island a few meters away from Bali coast, is one of the most famous balinese temple. A French newspaper even compared it to
Le Mont Saint-Michel
, an illustrious French tourist site. It is true that they have some similarities: both of them have a religious monument built on a small island we can reach by walking but only at low tide and they both attract a lot of tourists.
However, for me, Le Mont Saint-Michel and Tanah Lot Temple are quite different. Tanah Lot island is smaller and less impressive than the Mont Saint-Michel. Also the atmosphere is not the same. In Tanah Lot there are no restaurants, graves nor coats of arms. It's true we went through a shopping area but there is nothing of the island itself except the temple. Nobody is living there. The only permanent inhabitants seem to be the gods statues.
The temple itself is beautiful but not exceptional. The most remarkable thing are the surroundings. The rocky and wild coast is sublime. But you know me: I could stay for hours just looking at ocean waves crashing against the rocks! By the way, the view is even better from the pathway going to the second temple. Plus, from there we have a good view on Tanah Lot temple.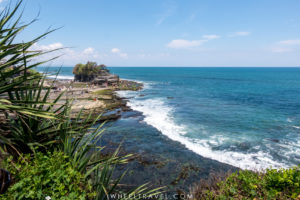 Accessibility at Tanah Lot temple:
There is a ramp to access the ticket office and enter in the temple area.
After the ticket office you will have to roll through a shopping area before being able to have a glimpse at the temple. When you will get out the tourist shops area you will face a set of stairs but there is a solution: on your left you will find a small pathway. It is quite a detour but if you take it you will arrive at the bottom of the stairs. This pathway is a bit damaged and steep at some parts. Also there are two steps at the end of it before reaching the view point.
It is not possible to get close to the temple in a wheelchair because there are rocks and sand.
To get to the second temple, a smaller one, you will have to backtrack until you arrive to the top of the stairs, at the beginning of the "wheelchair pathway". From there, turning your back on the sea, move forward and take the fourth road on your left. At the end of the road, you will see many pathways leading to the temple. Almost all of them have a big concrete block preventing scooters to use them. Unfortunately wheelchairs are also too wide but no worries in just a few minutes we found one pathway without block. Let's have a look at this map! Surely it will clarify all of this!
Uluwatu temple
I had a better time visiting this temple than Tanah Lot. Surely because it is inhabited by many monkeys and I can watch them all day squabbling or trying to steal tourists. They steal food but also every other objects they can catch easily. So look out for your sunglasses and jewelries! Those monkeys can be sneaky and mischievous to get what they want, but I found them less agressive than monkeys in some parts of Malaysia.
Also I was enchanted by the landscapes. Reliefs are impressive. The cliffs are dizzying and even the rocks in the sea look hostile. It seems like the waves shaped them as blades. It seems that time slowly shaped the scenery to prevent the temple from any invasion. To visit Uluwatu temple you will stroll along a path on the top of the cliff and you will be able to admire this landscape from different view points. We heard that it is even more beautiful at sunset but unfortunately we didn't see this magical moment. Still I have no doubt it must be amazing!
Accessibility in Uluwatu temple:
There are ramps everywhere so it is easy to visit the temple. However some slopes are quit steep so another person's help could be necessary for manual wheelchair users.
The temple itself is not wheelchair accessible. There are dozens of steps to access it. Restrooms are not wheelchair friendly.
Advices and useful information to travel in the south of Bali:
Accommodation: Sanur is a beautiful and central place where you can stay and easily visit the south of Bali. It's near to the airport and the accessibility is better here than in most of the Balinese towns I visited, even if its not perfect. If you're looking for a wheelchair friendly accommodation you can have a look at those two:
Cool Bali Villas: I didn't stay there so I would advice you to contact them before booking to check the information I found on their website. According to it, the Palm Garden Villas are ideal for people with reduced mobilty and wheelchair users.
Accessible Villa G: I didn't stay there but I have read really good reviews from people who stayed there. It seems to be a perfect wheelchair accessible accommodation with a roll-in-shower, mobile hoists, pool hoist and hippocampe beach wheelchair.
Transports: To visit the south of Bali, the easiest solution is to hire a car with a driver for a few hours or a day. Bali Access Travel has wheelchair adapted vehicles. You can find the information here.
Where to eat? If you want to taste local food in an artistic setting you can go to Joglo Jaje Bali. The address is Jl. Raya Kerobokan, Kerobokan Kelod, Kuta, Kabupaten Badung, Bali. There are two steps to access the restaurant indoors but you can sit on tables outside. The restrooms are not wheelchair accessible.
If you want more information about travelling in this country you can read about all our travel destinations in Indonesia and their wheelchair accessibility. We also share with you the detailed budget of our travel.
Did you like this post? Feel free to check out my Patreon page to see how you can support the creation of new ones and be a part of iwheeltravel!
And of course, you can share, like and subscribe, to be aware of the lastest posts.