2 days and 1 wheelchair to visit the Pays Basque in France!
After the amazing Pic du Midi, we are now going to visit the Pays Basque, a province located in the very south-west of France. Unfortunately the weather was mostly rainy during our stay there so we only had two days to visit this beautiful region where I used to go on vacation when I was a kid. Of course two days is a bit short to be able to visit everything but still, we had enough time to stroll in Saint-Jean-Pied-de-Port picturesque streets, to gaze upon the Pyrénées mountains and the ocean from the train de la Rhune, to visit an ewes farm and to indulge ourselves during la Foire au Jambon, a ham festival, in Bayonne!
Day 1 : Saint-Jean-Pied-de-Port and the train de la Rhune
Saint-Jean-Pied-de-Port, a charming village
Fist step of our trip in the Pays Basque: Saint-Jean-Pied-de-Port charming village, known as one of France's most beautiful. As often, when we arrive in a new city and when it's possible, we choose to go on high ground to get an overview of the city. So we decide to go to the Citadelle which was built on the top of a hill overlooking the city. The Citadelle itself is not amazing and, most of the time, it is impossible to visit it as it is a high school now. The only visits are in July and August, during the summer break. So I was not impressed by the Citadelle but I really enjoyed the view from the top of the hill and all along the pathway leading to Saint-Jacques' gate. It is such lovely landscapes! The mountains, the valley and the village with its red roofed houses are so beautiful! And those red roofs definitely remind me of my chilhood roadtrip on my way to vacation… A warm memory.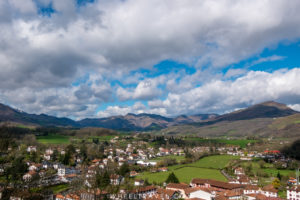 Once we reached Saint-jacques' gate we are in the rue de la citadelle, in the center of the fortified city and on the way of Saint James pilgrimage route. It is impossible to walk a few meters in this cobbled street without seeing a hiking store, a pilgrims refuge or the famous scallop shell, emblem of St James the Great ant the pilgrimage. By looking above, you will even see some hiking shoes used like flowerpots.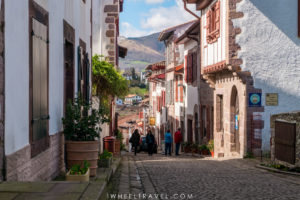 Past the end of this street, the general mood and setting are a bit different but as enjoyable. No more steep cobbled street: we are in a flatter and more lively center, where bridges across the river make the place very charming. Being in this lovely surroundings, warmed by the rays of sunlights, we couldn't resist to stop at a basque restaurant, outside on a patio!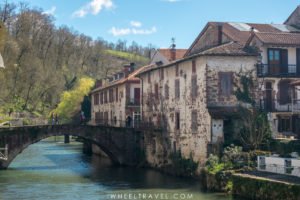 Accessibility at Saint-Jean-Pied-de-Port:
Usually, to reach the Citadelle, tourists park their cars in the city-center and then walk up to the hill summit but for a wheelchair user that would be very difficult even maybe impossible as the pathway is very steep, long and made of cobblestones. I would advice to take your car and drive to chemin de la porte de Saint-Jacques, then follow the parking citadelle signs and to park your car at the very top of the chemin de la citadelle. From there you will be able to go to the citadelle and to roll on a concrete road until the Saint-Jacques' gate. Nevertheless, you should visit the city with someone to help you as the streets are very steep at some point and the rue de la citadelle is made of cobblestones.
Restaurant: We had a very good and generous meal at the "Café Ttipia", 2 place Floquet. There is one step at the entrance but patios are wheelchair accessible. Restrooms are not accessible.
Train de la Rhune: an ascent between mountains and ocean
Before I visited my sister in Pau I didn't know about this touristic site even if it is apparently quite famous in the region. I only heard about it from one of sister's coworkers. She told us that we had to go there, as this is a really nice place. So we took her advice and drove to Sare, a small village close to the Pyrénées, where is the train de la Rhune railway station.
Even though we heard it was good, I wasn't expecting something special. I though it would be just another tourist train on a tourist site. Well, I was wrong! The ascent, in this old train built in 1924, was a splendid surprise! I didn't think for one second I would gaze upon such marvellous landscapes. For 35 minutes, we slowly ascended the hill and as we went along, we discovered the Atlantic ocean and the mountain beauties.
At the summit, at 905 metres above sea level, the view is impressive. We can see miles away. On one side we can admire the mountains and even some snow-capped summits whereas on the other side we have a magnificient panorama of the atlantic coast. We can even see the cities of Saint-Jean-de-Luz, Biarritz and Bayonne.
Accessibility of the train de la Rhune:
This tourist activity is not really wheelchair friendly however
it seems that the staff has been trained regarding handicaps
. Therefore they pay close attention and are helpful throughout the visit. You will find information regarding the site accessibility
on the official website of the train
but I can already share with you some of it:
They are disabled parking spaces.
Disabled people can, in some conditions, benefit from a special fee: 8,50 euros instead of 19 euros. You cannot benefit from this price if you buy your ticket online.
Wheelchair users will have to use the exit (on the left when you're facing the train station) to access the ticket office counter because the usual entrance is not large enough for a wheelchair.
There are restrooms behind the ticket office. One of them is large enough to roll in with a wheelchair and transfer from it to the toilet but unfortunately there is no grab rail.
There are three steps to get in the wagon. I could handle them but the staff seemed to be ready to carry me if needed. However the wagon door is not so wide so it may be difficult to transfer in the wagon.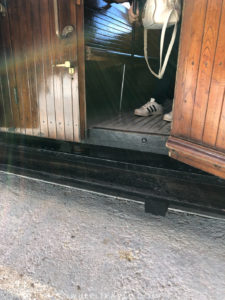 Once at the summit, the pathway to get to the highest view point is very steep. It is absolutely necessary to have someone in very good shape to push you and hold you while going up an down. The staff also offers to help. Even though, the first ramp is quite impressive and I was not feeling very confident.
The second slope is even more steep so I didn't climb it. Still the view is already awesome from this height and just seeing the landscapes from the train is worth it.
Day 2 : Visiting an ewes farm and indulging ourselves at Bayonne foire au jambon
After a full day enjoying the basque culture and landscapes we decided to spend our second day eating local food! At the end of day, we should be expert in local delicacies! Let's go eat some ewe cheese and Bayonne ham!
Visiting the Agerria farm
First step of our food trip: the Agerria farm in Saint-Martin-d'Arberoue. Although I grew up in a farming area I must admit that I don't know so much about agriculture. So I was curious to discover how one of my favorite cheeses, the ewe cheese named Ossau Iraty, is produced.
After the owner told us the history of the farm, which he inherited from his parents, he took us around on a visit of the property and explained us how the cheese is made, as well as the hams and the saucisson. Nutrition, lambing, shearing, milking, label obtention… We learnt a lot in an hour! Plus the tasting was really good so we bought some cheese and ham as a gift for our family, even if they were expensive.
Accessibility at Agerria farm:
There is a ramp to access the reception.
There is no disabled parking nor disabled toilet.
There is a step (about 5cm) to enter the shop.
The visit is fully wheelchair accessible but the ground is sometimes uneven and some help can be useful. The shed is also accessible but you will surely finish with some dirt on your wheels!
The foire au jambon in Bayonne
As I child, I had a glimpse of Bayonne and I was happy to discover this city once more. I enjoyed wandering its streets, filled with coloured window-blinds and half-timbered houses here and there, before searching for the next cosy restaurant or friendly bar by the riverside.
This time however, the streets are not so quiet: this is the ham festival! Bayonne is known to be the hometown of one of French's best ham: Le Jambon de Bayonne. Ham stalls, cheese stands and fois-gras sellers are everywhere, in the streets and under big tents. There are great celebration vibes here, and the city is bustling with people. Some are having a chat around a glass of wine, while others are walking around, bottle of hand! But sooner or later, everyone find themselves eating slices of ham or pieces of cheeses out of small buckets like you would eat candies on a funfair!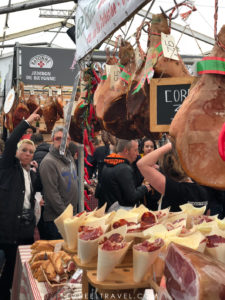 Accessible and yummy food addresses in Bayonne:
Impossible to visit the Pays-Basque without having a taste of its famous gâteau basque, a traditional local cake. While in Bayonne, feel free to stop at Pariès, 14 Rue Port Neuf. Their gâteau basque is delicious, and the shop is wheelchair friendly.
For lunch break, you can head to Kitchen Dada, 6 Rue Port de Castets. Their UK inspired food is very tasty. I really enjoyed my pulled-pork burger, and their dessert are mouth-watering. As for accessibility : there is a step at the entrance but the staff can bring out a ramp if needed. Toilets are wide enough for a wheelchair and there is a grab bar.
Finally, if you ever go to the foire du Jambon next year, the tents are accessible.
If you're planning to travel to France, want to discover more wonderful regions and awesome accessible activities you can have a look at all my posts about travel destinations in France.
Did you like this post? Feel free to check out my Patreon page to see how you can support the creation of new ones and be a part of iwheeltravel!
And of course, you can share, like and subscribe, to be aware of the lastest posts.