Guadeloupe: wheelchair strolls in French Caribbean islands
Last March we enjoyed a wonderful honeymoon in Guadeloupe, one of the French Caribbean islands. In my first blog post about this trip in Guadeloupe, I told you about many amazing things: turtles, dolphins, heavenly beaches… But I still have much to tell you.
Guadeloupe travel: wheelchair wanderings
Guadeloupe is way more than golden sand beaches with cristal clear waters. The islands of Guadeloupe are also a paradise for nature lovers and hike addicts. Even for wheelchair travellers 😉
Botanical garden
The botanical garden in Deshaies is a must-do during a trip in Guadeloupe. It's definitely one of the best strolls we made during our vacations. It's simply the perfect place to discover the island vegetation!
We wandered a couple of hours between palm trees, baobabs, breadfruit trees, ferns, orchids and so many other trees and plants. We also met some animals: lizards, flamigos, parrots, goats and hummingbirds.
Useful information & accessibility:
The botanic garden is fully wheelchair accessible. There are disabled car spaces.
From Monday till Sunday, from 9:00 am till 4:30 pm. The Park closes at 5:30pm.
Fees: 15,90€
The waterfall walk "cascade aux écrevisses"
The "cascade aux écrevisses" might be the most famous waterfall in Guadeloupe. Many travel guides assure you this is a must-do. As for me, I have been quite disappointed. Surely because it is quite difficult to compete with all the impressive waterfalls we saw in New Zealand. Plus, the place is crowded with people so I couldn't appreciate it quietly.
Useful information & accessibility:
The "cascade aux écrevisses" in located on the road called "route de la traversée". There is a disabled car space, the pathway is easy to roll on and it's only 5 minutes walk from the waterfall view point.
Le Moule, rambling in the streets
When we go on vacation in a country or region we don't know, Franck and I like to try our best to step in the real life of the locals and understand their way of live. So we spend some time wandering in non touristic places. Like small town streets for example. That's why we ended rambling around Le Moule, a small city in the very north of Guadeloupe.
These streets made us travel through time. Seeing some colonial houses brought us a few centuries back and made us think about France colonial history. But today the streets of Le Moule are joyful thanks to the colourful buildings and laughs of basketball players.
Accessibility:
Unfortunately, sidewalks are not always wheelchair accessible so wheelchair users will have to roll on the road.
Porte d'enfer
If you enjoy strolling along the sea and feeling the wind in your hair you will love to have a walk at Porte d'enfer. Well, the pathway is not really wheelchair accessible as there are roots to manage during the first metres but if you have someone to help you it's worth it.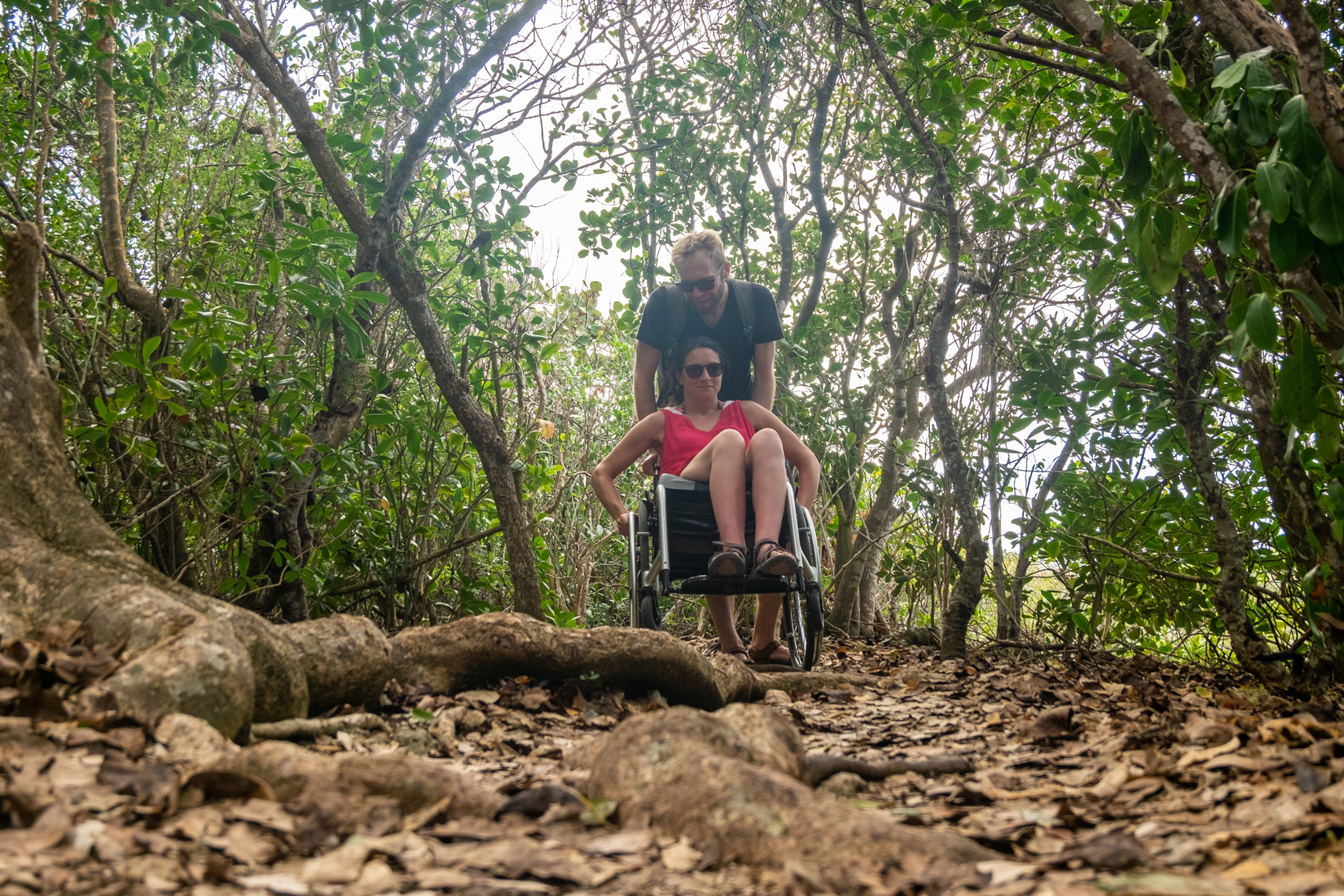 Indeed, after those few struggling metres, the view is really nice and the pathway is smooth. Just a bit narrow sometimes.
Useful information:
There are two places called "porte d'enfer". This one is located on the road N5 heading from Le Moule to Saint-François.
The other "porte d'enfer", located in Anse-Bertrand, might be described as wheelchair accessible in some travel guides but is not anymore. Indeed, the boardwalk has collapsed.
Pointe de la Grande Vigie
The "Pointe de la Grande Vigie" is a small walk leading to a great view point, just a few minutes roll on a perfectly wheelchair accessible pathway. Once at the view point you will enjoy a beautiful view on the cliffs and if you are as lucky as we have been, you might even have a glimpse at whales!
Pointe des Châteaux
The "Pointe des châteaux" is a place I really like. Surely because from this rocky point I can listen to the waves crushing into the rocks and admire the sunbeams reflect on the sea. Those sensations always bring me back to my childhood in Brittany.
Useful information & accessibility:
The "pointe des châteaux" is located 6 kilometres north from the city Saint-François. The ground is rocky, not the most wheelchair friendly strolls as it is a bit shaky. Rolling only on back wheels will be helpful. But fortunately it is just a few metres to admire this amazing view.
As for those who prefer easier hike with adapted equipments, Tigligli organise some hikes in joelette (a kind of one wheel all terrain wheelchair) in Guadeloupe. I didn't try it out this outdoor activity in Guadeloupe but I exchanged some emails with Martine (who works for Tigligli). She will explain to you the different options available regarding your whishes, the weather and the number of people required to carry the joelette.
Guadeloupe: a tour through history and local life
Les Saintes and Fort Napoléon
While planning our travel in Guadeloupe, I read a lot of good things about Les Saintes, small islands located a few kilometres south from Basse-Terre. As my grand parents have been in Guadeloupe many times, I asked them their opinion. Clearly, they love this island but they advised us to stay at least 2 days and one night to be able to appreciate it.
They were so right! Most of the tourists arrive around 10am and leave between 4pm and 5pm with the shuttle boats. So early mornings and evenings are the best moments to enjoy the island peacefully.
Useful information & accessibility:
Fort Napoléon and "pain de sucre" beach are the two most touristic sites of Les Saintes.
The Pain de sucre beach is not wheelchair accessible at all. It can be reached only by a craggy pathway, hundred metres long. So if you want to chill on a beach I would advise you to go to Pompierre Beach.
As for Fort Napoléon, visiting it is very difficult. First, to reach it you will have to climb a very steep road (vehicles have to park further down). Then, once inside the fort, the ground is rocky and there are many steps inside the building as well as in the garden. So the view point is not wheelchair accessible. In spite of this, there is no special entrance fees for disabled people. Consequently I would advise you to get as close as possible from the fort with your vehicle, park it to the parking at the top of the hill and admire the view from there.
Going to Les Saintes:
We travelled from the city Trois-Rivières on Basse-Terre island to Les Saintes (Terre-de-Haut) with the shuttle boats company CTM Deher. To get onboard wheelchairs users have to be carried in their wheelchair. The parking fee is 5 euros per day but it's free for people with disabled parking permit. You will not find this information anywhere so don't forget to tell it to the person handling the parking entrance.
Moving around les Saintes:
To visit the island there are 4 solutions: you can walk, rent a cycle, a scooter or an electric small car. As the island is hilly, the easiest solution for a wheelchair traveller is to rent an electric car. The manager lent us some cables to attach my wheelchair at the back of the car and everything went well. However it is quite expensive (170 euros for 2 days).
ACTe museum: memory of slavery
Located in Pointe-à-Pitre harbor, the ACTe is an astonishing museum, a pleasant place of memory to visit. The permanent exhibition is about the History of slavery from antiquity up to nowadays. It highlights many stories of slaves and men who fought for the abolition.
As we were moving trough different rooms, we discovered many themes and immersed ourselves in different atmospheres. We travelled in a slave ship hold, landed on a Caribbean beach and even took part in a Carnival celebration.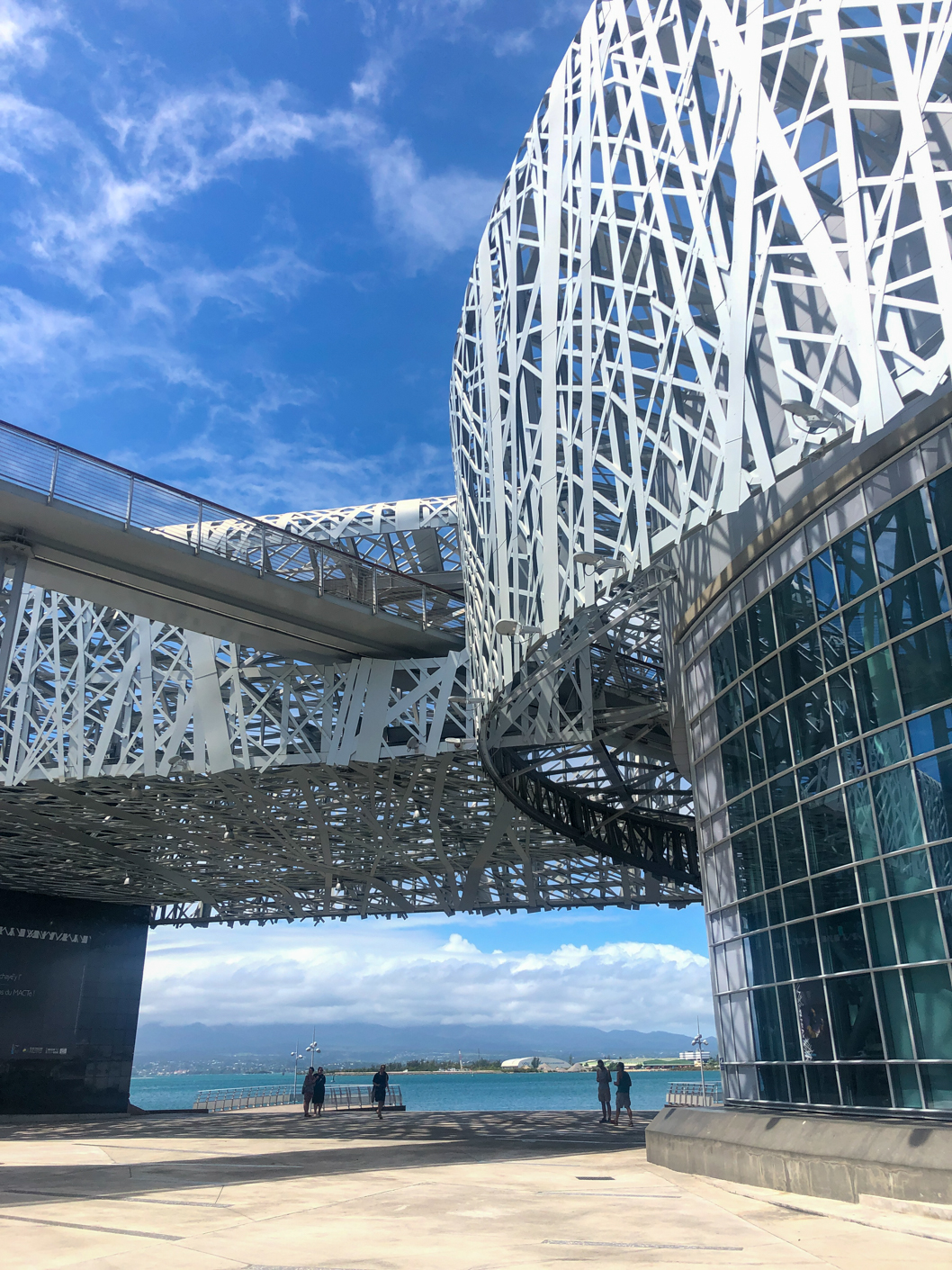 Useful information & accessibility:
Address : Darboussier, Pointe-à-Pitre.
Close until further notice due to COVID 19. Usually it's closed on Mondays.
Fees: 15€, disabled people: 10€.
The museum is fully wheelchair accessible. There are disabled car parking spaces and adapted restrooms.
We didn't visited the aquarium and the coffee museum but they are supposed to be wheelchair accessible. So, with all those walks and activities you should not get bored during your travel in Guadeloupe! But if you're still looking for more ideas or information about heavenly beaches you can also have a look at my first blog post about our travel in these French Caribbean islands!